The software enables offline messaging across the globe from a Windows-based PC or laptop using mobile phones. Users can send multiple message types, including standard messages and notifications.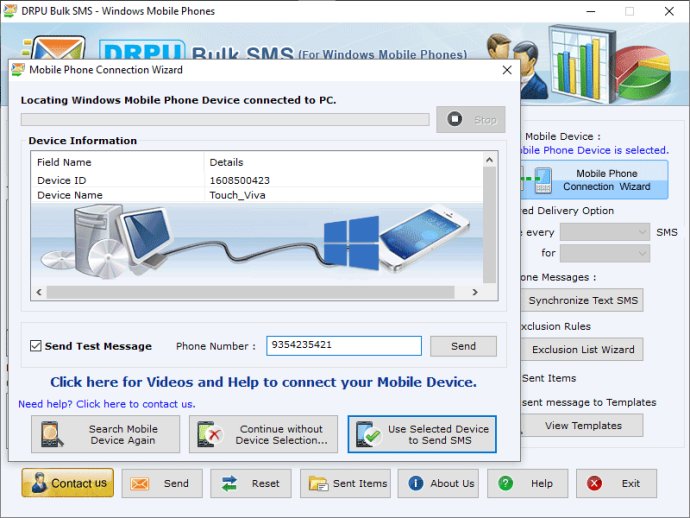 This software is the perfect solution for both professional and non-professional users. It is designed to help business users stay connected with clients, consumers, business partners, students, teachers, office coworkers, firm employees, and other targeted audiences by sending large text messages to national or international mobile networks without any internet connection.

With this software, you can forward single or multiple text messages to a target number of people without any duplicated contact number entries from your PC by using window-based cell phones. The software offers four different import options, including Load Contacts from File, load contacts from a phone, sending unique or personalized SMS to every contact using Excel and adding or pasting numbers manually to send multiple messages to customers.

Additionally, this software provides users with the option to send messages that contain non-English (Unicode) characters or English characters. This feature allows for greater flexibility in communication and coordination with clients and customers around the world.

Furthermore, the software supports business users in increasing sales and profit by engaging with a focused audience via sending unlimited SMS through their PC or laptop using Windows cell phones. Users can export the contact list or message list through an excel sheet format for easier tracking and management.

Some of the standout features of this software include the facility to send SMS using Delayed Delivery Options, delivering alert, notification SMS to promote your product or inform about discount offers, holiday, etc., sending text messages worldwide without requiring any internet connection and providing options to send customized messages using Excel or text-based files.

The software also allows users to save delivered items details at a specified location in their computer system for further reference. It supports all Window versions making it accessible to a wider range of users. Whether you are a small business owner or a marketing executive, this software is an essential tool that simplifies communication and helps increase engagement with clients and customers.
What's New
Version 10.2.4.4: Added Support for Latest Windows 11 OS Updates. Added Support for High DPI resolutions Compatibility. Added new Bulk Text Messaging Technology. Added additional Features to import contacts or messages from Excel Sheets.