ExplorerGenie is a software extension that enhances the explorer context menu. Users can copy file paths, access command line and power shell applications, manage alternative data streams, create symbolic links, and calculate file hashes.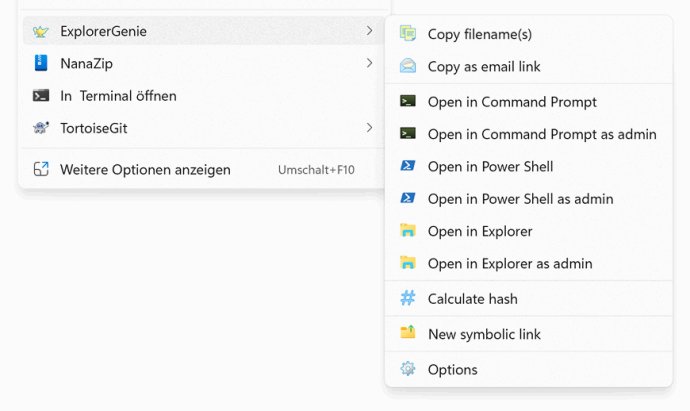 ExplorerGenie is a must-have software extension for those who use the Windows Explorer interface frequently. This extension integrates seamlessly into the explorer context menu, offering users a variety of features that make their workflow even more streamlined and efficient.

With ExplorerGenie, users can copy file paths, open applications like the command line or power shell, manipulate alternative-data-streams, create symbolic-links, and even calculate file hashes. The file path can be copied in different formats, which makes it easy to send via email or other sharing methods.

When using ExplorerGenie to open applications, they will automatically open in the same directory as the context menu was shown. When necessary, apps can also be opened as admin quickly and easily.

One of the best advantages of ExplorerGenie is that it is an open-source project (FOSS). This means that users have access to a community of developers who continually improve and update the software while keeping it free for all to use.

Overall, if you want to boost your productivity and take full advantage of the Windows Explorer interface, ExplorerGenie is an essential tool that is worth adding to your software collection.
What's New
Version 3.1.0: Adapted to the Windows11 context menu, detect and delete alternative-data-streams (ADS), create symbolic links.