ExplorerMax is an advanced file explorer tool designed specifically for Windows users. With improved file management capabilities, it enables users to work more efficiently and effectively.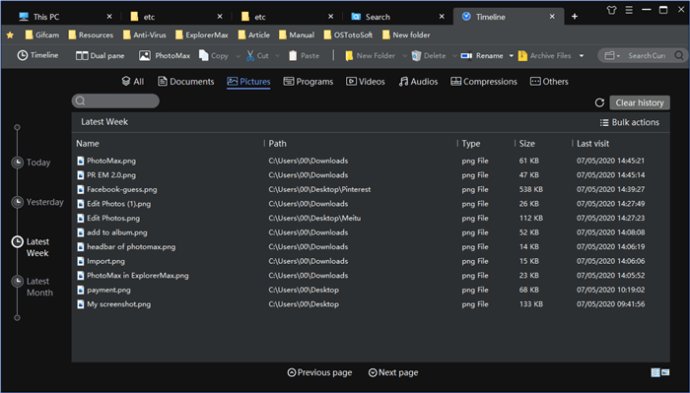 If you've ever found yourself frustrated by the limitations and inconveniences of Windows File Explorer, then ExplorerMax might just be the solution you've been looking for. This enhanced Windows Explorer offers a wealth of additional functionalities, giving you all the tools you need to manage your Windows work with ease.

ExplorerMax comes packed with a range of key features designed to boost your productivity and streamline your workflow. For starters, the software offers tabs functionality, allowing you to keep multiple folders open and switch between them quickly. This is especially useful for multitasking, as it eliminates the need to constantly navigate back and forth between different folders.

Another standout feature is the Quick Search function, which allows you to search for files on your system or on specific disks. Not only does it return results quickly, but it also groups them into clear and understandable categories, making it easy to find what you're looking for.

ExplorerMax also offers the ability to create bookmarks, making it easy to keep your favorite files and folders accessible at all times. Additionally, the Timeline feature lets you locate recent files and history in no time at all.

Customization options are also available through the ability to select a customized theme that better supports light and dark modes of the Windows system. The dual-pane functionality provides better support for file-to-file operations, and the toolbar offers quick access to functions such as copying, pasting, creating new folders, deleting, smart rename, and archive/extract.

Exchangeable support is also available through the use of plugins, including PhotoMax, a powerful photo organizing tool.

If you're looking to try ExplorerMax out for yourself, the software offers a 30-day free trial without any restrictions. Give it a try today and see how it can help save you time and streamline your workflow.
What's New
Version 2.0.3.30: 1. Added email identification in the registration process.
2. Fixed the issue about End-of-Trial notice.
3. Fixed some known bugs.
4. Added new features.