Express Rip Plus is a versatile CD ripping software that lets you extract audio from CDs and convert it into mp3 or wav formats. It offers various features, including ripping, converting, encoding, and decoding audio files to your computer's hard drive.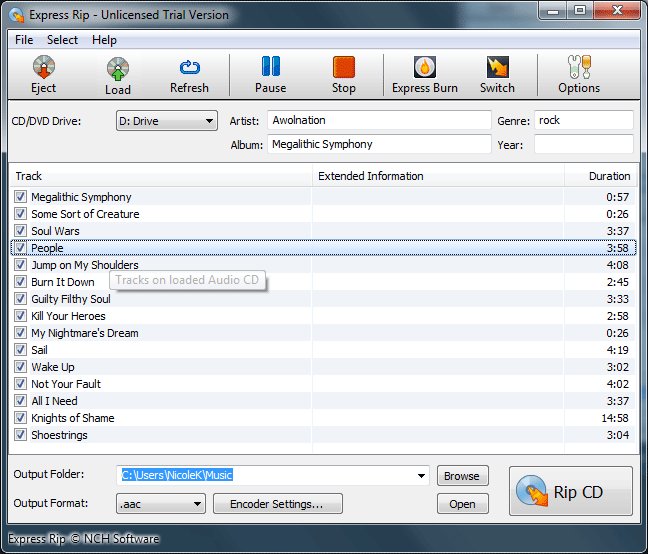 Express Rip Plus CD Ripper program is a highly recommended software for converting CD audio tracks to mp3 or wav files. With this program, you can easily extract and encode music and other audio tracks from your CD directly onto your hard drive, ensuring the highest quality possible through pure digital extraction.

One outstanding feature of Express Rip Plus is its impressive speed. It boasts a small download file and is considered one of the fastest free CD rippers available. Moreover, it offers complete control over mp3 encoding, allowing you to choose between constant and variable modes at selectable bitrates. This level of control allows you to customize and fine-tune the output to match your specific needs.

Additionally, Express Rip Plus has several other useful features. For example, it automatically updates the displayed track-list when a CD is inserted or ejected. You also have the option to rename tracks before loading them, adding convenience and organization to the ripping process.

The software's user-friendly interface makes it easy to navigate and utilize all its features. It presents a straightforward and intuitive experience, ensuring a hassle-free conversion process.

Express Rip Plus is developed by NCH Software, a renowned leader in audio, video, music, MP3, CD, DVD, telephony, dictation, transcription, business, and utility software for various operating systems including Windows, Palm, Pocket PC, and Mac OS X. With over 80 products released since 1993 and numerous awards for software excellence, you can trust NCH Software to provide you with top-quality software for all your audio needs.

In conclusion, if you're searching for reliable software to convert your CD audio tracks to high-quality mp3 or wav files, Express Rip Plus CD Ripper program is an excellent choice. Its exceptional speed, comprehensive encoding control, and user-friendly interface make it the perfect tool for enjoying your favorite music in digital format.
What's New
Version 6.00: New Release
Version 5.00: New Release