Exselo Desktop is a versatile desktop search tool that enhances your business productivity by efficiently retrieving the required information. It ensures safe sharing of data with colleagues and offers a comprehensive solution to your operational needs.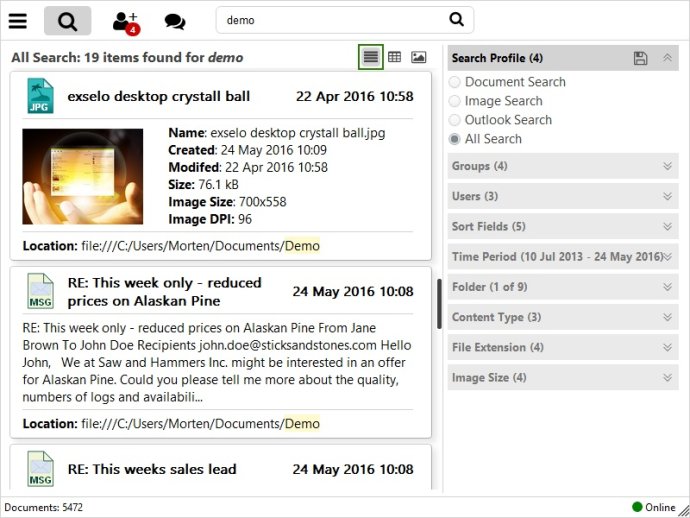 Exselo Desktop is a powerful productivity tool designed to enhance your business operations. With its advanced search capabilities, it efficiently finds the information you need to get your work done quickly and effectively. This software allows users to collaborate, search and share data in real-time using secure peer-to-peer technology.

One of the main advantages of Exselo Desktop is its simplicity. Its user-friendly interface makes it easy for users to navigate and customize their search options. With its "Refine query result set" feature, users can easily narrow down their search results to find exactly what they are looking for.

Exselo Desktop also allows users to save search profiles for future use, providing a more efficient way of searching. Additionally, users can choose between different result views depending on their preference.

This software can access files from various sources, including local disks, network shares, cloud stores, and even data from Microsoft Outlook. Exselo Desktop also provides quick access shortcut keys, making it more convenient for users to access their frequently used functions.

Moreover, Exselo Desktop offers secure peer-to-peer network and messaging systems, allowing users to share sensitive information with friends and colleagues safely. It also features distributed search and enterprise single sign-on. Exselo Desktop can easily integrate with other enterprise tools like Microsoft SCCM, making it an ideal solution for businesses of all sizes.

In summary, Exselo Desktop is a powerful and user-friendly productivity tool that streamlines search operations in businesses. This software is perfect for people looking for an efficient way to manage their data and operate effectively in a secure environment.
What's New
Version 2.5.6: Minor release with bug fixes.