This software installs 180 plugins and brushes for any version of Photoshop or GIMP, making it easier to access and use a variety of extensions.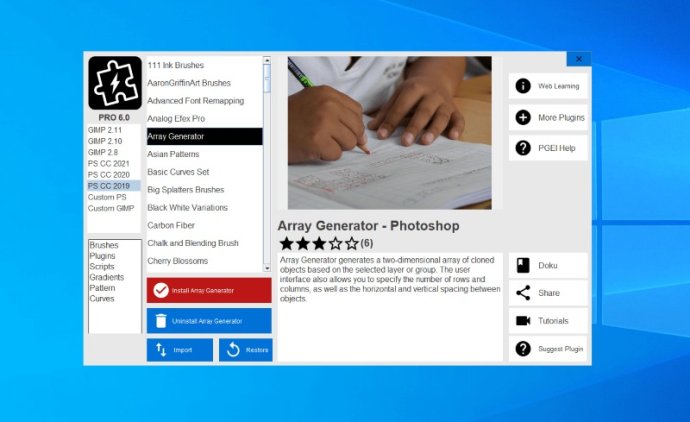 Are you tired of spending hours searching for extensions for your graphic design software? Look no further than the Photoshop GIMP Extensions Installer. This powerful tool installs over 180 plug-ins, patterns, gradients, and curves with just one click. With the ability to easily expand your creative tools, you'll wonder how you ever managed without it.

Installation is effortless thanks to the quick installation feature, allowing you to add extensions for GIMP and Photoshop in under two seconds. Say goodbye to annoying installations and compatibility issues between extensions and your graphics suite.

But that's not all. The Photoshop GIMP Extensions Installer also provides compressed manuals that help you understand and apply the functions of your new extension right from the start. It's a simple and efficient way to improve your workflow.

Choose one or more extensions, including plugins, brushes, scripts, patterns, and gradients, and let the Photoshop GIMP Extensions Installer do the rest. Simply choose your Photoshop or GIMP version, select the extension you want, and click install.

PGEI also autodetects your graphics suite version, making installation easy for Photoshop CC 2019, 2020, 2021, and 2022, as well as GIMP 2.8 and 2.10. For even more customization, add other Photoshop or GIMP versions via a custom path. This extension works with all kinds of GIMP and Photoshop files.

Other features of the Photoshop GIMP Extensions Installer include the ability to auto-detect your system language and Linux support via installation of the deb or jar file. There's even a feedback possibility to help you voice your concerns or suggestions.

Improvements in writing have been made, and there are now licenses and privacy statements inside the program. Plus, bug fixes have been made to ensure smooth selection of the different types. Style up the tool with new icons, layouts, and colors.

Overall, if you want to take your graphic design to the next level, the Photoshop GIMP Extensions Installer is an essential tool that you won't regret.
What's New
Version 7.8: - add support for Photoshop CC 2023 and Photoshop CC 2024
- minor fixes
Version 7.6: - Improve speed and security
- bug fixes to improve stability
Version 7.2: - Automatische Erkennung Ihrer Grafik-Suiten und nur diese in der Versionsliste
- Automatische Erkennung Ihrer Systemsprache
- Hinzufügen einer Feedback-Möglichkeit
- Verbesserungen beim Schreiben
- Lizenzen und Datenschutzerklärungen im Programm
Version 7.0: - Automatische Erkennung Ihrer Grafik-Suiten und nur diese in der Versionsliste
- Automatische Erkennung Ihrer Systemsprache
- Hinzufügen einer Feedback-Möglichkeit
- Verbesserungen beim Schreiben
- Lizenzen und Datenschutzerklärungen im Programm
Version 6.0: - Import-Funktion: Mit wenigen Klicks kann man jede beliebige Erweiterung importieren.
- Lösch-Funktion: Jede installierte Erweiterung kann auch gelöscht
- Bewertungsmöglichkeiten
- Hilf-Button für Instant-Help von der Ent