EzPaycheck is a user-friendly and secure payroll software designed for small to mid-sized businesses. It offers a straightforward solution for business owners with limited computer skills and accounting knowledge, ensuring easy and efficient payroll management.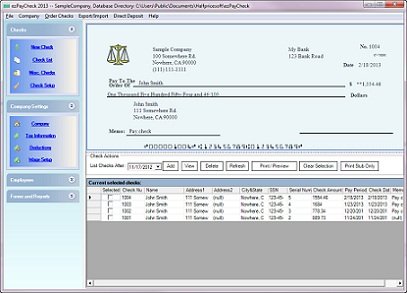 EzPaycheck is a highly useful software tool that provides a comprehensive and easy-to-use payroll solution for small business owners. Its user-friendly and straightforward design makes it perfect for those who are new to accounting and payroll management.

One of the standout features of EzPaycheck is its compatibility with all 50 states and tax tables, ensuring accurate tax calculations regardless of your business location. Additionally, the software allows you to create and maintain payrolls for multiple companies, streamlining your business operations.

Another key feature of EzPaycheck is the ability to print checks on blank computer check or preprinted check paper, providing added versatility and security. The software's automated calculation features simplify tax season by providing automated calculations for Federal Withholding Tax, Social Security, Medicare Tax, and even Employer Unemployment Taxes.

With its user-friendly interface and step-by-step wizard guides, EzPaycheck makes it easy to create new companies and set up employees. The software also offers flexibility in payroll periods, allowing you to choose between daily, weekly, biweekly, semimonthly, and monthly payrolls. Comprehensive reports are available to track payroll costs and other financial matters.

Overall, EzPaycheck is an excellent solution for small business owners who want to simplify their payroll processes, reduce errors, and save time. Its impressive range of features and user-friendly design make it an invaluable tool for any small business owner.
What's New
Version 3.13.10: Fixed a rare error of adjustment calculation on line 7 of Form 941.
Version 3.13.9: updated with 2023 tax rate
Version 3.9.2: updated with 2019 tax rate