Ezy Hotel Manager is a 30 day trial software designed to manage accommodation services for guest houses, bed and breakfasts, hotels, and motels. It simplifies day-to-day administrative tasks with a user-friendly interface.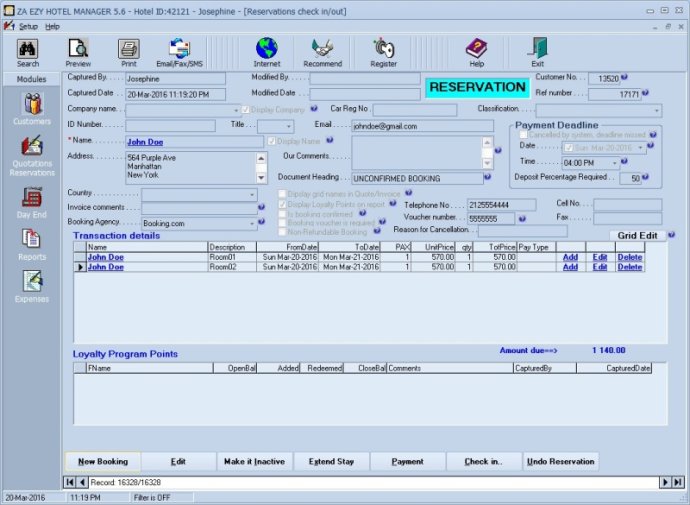 Ezy Hotel Manager is a comprehensive administration system designed to help guest houses, lodges, bed and breakfasts, hotels, and motels simplify their operations. With a wealth of features, this software offers a hassle-free way to manage your business and streamline your workflow.

One of the standout benefits of Ezy Hotel Manager is its easy-to-configure software. Designed for simplicity, this system is easy to set up and customize to your needs. Additionally, the software is protected with username and password access for added security, and features an audit trail to track who made changes and when.

Access control is another important feature of Ezy Hotel Manager, enabling you to grant or revoke access to specific modules as needed. The software also includes a search and query function, allowing you to quickly find and retrieve the information you need.

Managing reservations and quotes is a breeze with Ezy Hotel Manager, as the system includes a reservation/quotation module that lets you easily convert a quote into a reservation. You can also set payment deadlines and auto discount schedules, and the software will automatically cancel unpaid or unconfirmed bookings.

Ezy Hotel Manager also includes powerful reporting tools, such as annual turnover reports, room availability reports, and customer loyalty points reports. All reports can be easily exported to PDF, Excel, and other formats, to make sharing and analysis a breeze.

Other features of Ezy Hotel Manager include a loyalty points module, email/fax/SMS customer invoicing, petty cash expenses tracking, and pie, bar, line, and area charts. The software even includes a hotel brochure and directions feature, as well as backup and restore functionality.

Overall, Ezy Hotel Manager is a powerful and user-friendly solution for managing your hotel or guest house. For those who want to experience it for themselves, a free 30-day trial download is available.
What's New
Version 5.7: 1) Export data to XLS,CSV,TIFF,PDF,HTML,Text