This software offers three types of licenses, including FREE, Regular, and Gold. It enables users to analyze log files on their workstations in order to optimize their site traffic. The software also includes filters, reports, and the ability to track search phrase ROI. Gold license features additional functionality, such as Scenarios and HyperLink TreeView.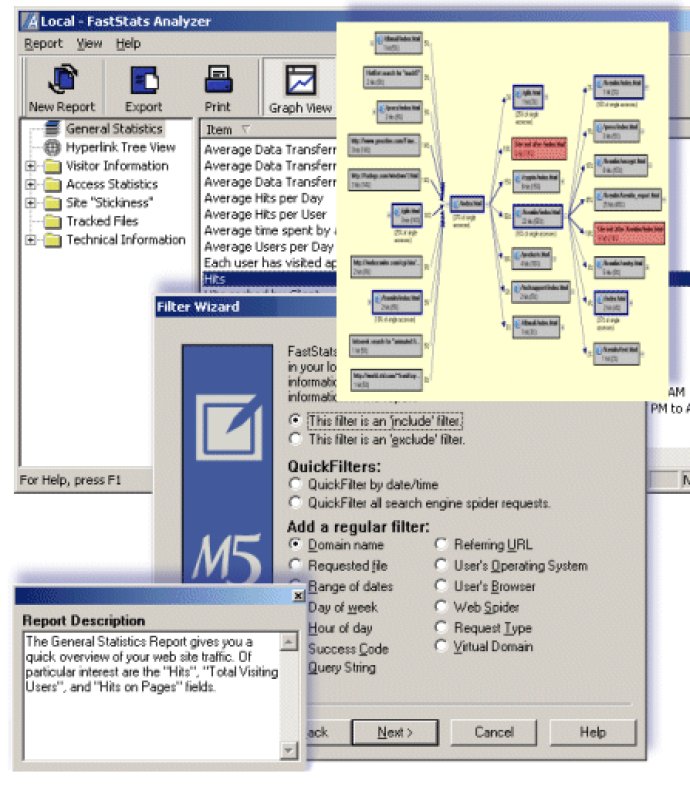 Mach5 Analyzer is a software that enables super-fast site log file analysis with SmartDNS lookup. The software offers three licenses; a helpful free version, regular and gold. This analysis is crucial for businesses and can speed up the log analysis process by a considerable amount.
The Mach5 Analyzer includes hits, bandwidth, search keywords, referrers, visitors per day, most and least used resources, file tracking, and tech info like 404s and incomplete downloads.
The regular version of the software adds true GeoLocation, HyperLink TreeView, and Custom Report Styles for printing, while the Gold license adds Scenario Analysis, 17 additional Site Stickiness reports, TreeView Tags, and Report Export capability.
The free license is limited to 5000 lines per report, which is equivalent to roughly 200 visitors, and does require registration.
The HyperLink TreeView tool allows users to visualize the traffic through their site and get a feel for their website traffic. It allows for the user to see the volume of traffic from page to page through their website, and discover how visitors move through their pages.
GeoLocation is another useful tool that reveals the true country breakdown of a user's visitors. Scenario Analysis offers a step-by-step progress through mileposts in a user's site, enabling them to gain hard metrics on site changes and effectiveness.
Mach5's FastStats Analyzer runs on the user's Windows desktop instead of slowing down their web server. It analyzes log files from virtually any web server and can automatically transfer the log files for the user via ftp or http.
The Gold version of the software automatically generates reports in HTML format and uploads them to the user's server. All of the software is free from adware, spyware, and other annoyances.
In conclusion, Mach5's FastStats Analyzer is the perfect software for examining web site traffic in a fast and efficient way. Try it today risk-free!
What's New
Version 4.1.7: Updated: Web Browser, Spider, and OS recognition, Zlib library, Graphing Library, & Ordering System Fixed: Quickfilters, IE7 ftp incompatibility, Blank FTP password failure, Graph time offset, Command Line mode DNS lookups. Full Changelog at http://www.mach5.com/products/analyzer/versioninfo.php