FaxTalk Messenger Pro is a user-friendly software that offers advanced answering machine and fax capabilities for managing voice and fax communications on Windows. Its quick, efficient, and reliable features make it a great software for businesses that need to handle large volumes of messages.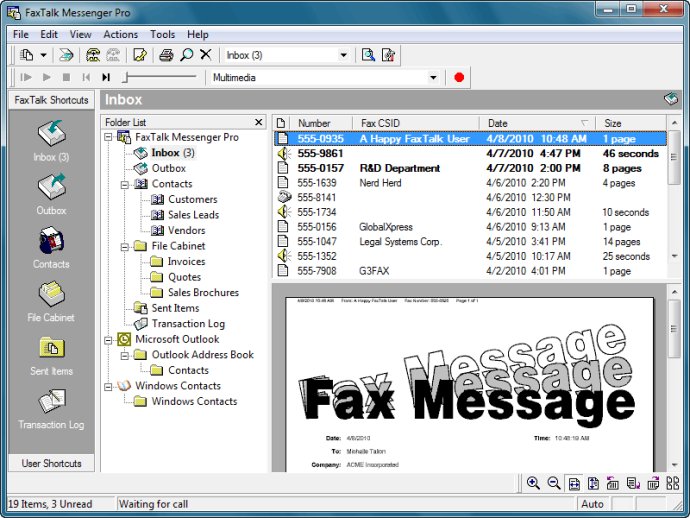 FaxTalk Messenger Pro is an excellent software for Windows that is designed to manage your voice messages and faxes quickly, efficiently, and reliably. This software has been developed to cater to the needs of small businesses and individuals alike, offering sophisticated answering machine and fax machine services directly from your computer. With this application, you can create a single or multiple mailbox answering machine system, send, receive, view and print faxes, and listen and save messages with ease.

This software is equipped with outstanding answering machine features that allow you to set up a simple or sophisticated voice mail system with multiple mailboxes, custom greetings for specific times or days, and remote access to your fax and voice messages from anywhere. Additionally, it automatically forwards received voice messages and faxes to an email address, offers anti-telemarketing and blacklisting options, records phone conversations, and comprehensive Distinctive Ring and Caller ID support.

The FaxTalk Messenger Pro is ideal for generating professional-looking faxes, even combining multiple documents into a single file, and broadcasting them to multiple recipients. This fax software provides robust features that allow you to fax directly from Windows applications with powerful features such as broadcast faxing, delayed scheduling, fax to email, access to contacts stored in Microsoft Outlook, Windows Address Book, and Windows Contacts, fax markup and annotation tools, custom-designed cover pages, and scanner support.

FaxTalk Messenger Pro has been a leader in fax software and answering machine software for over 22 years, which ensures it offers the features and reliability you've come to expect. Your calls are important, so trust FaxTalk Messenger Pro to manage your voice messages and faxes in a hassle-free manner.
What's New
Version 10.0.1636: Major update. Added new features including sending/receiving faxes over the Internet with a T.38 faxing service.