FilmForth is a user-friendly and robust video editor that serves as a Windows-based movie and slideshow maker. This software is free to download and use.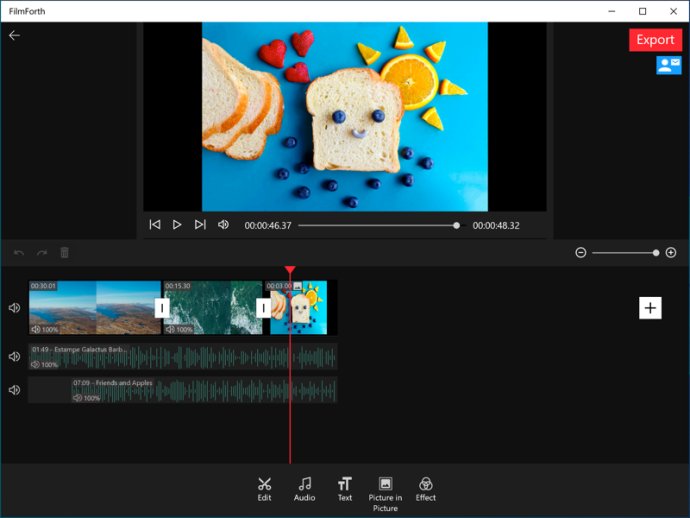 If you're looking for a free and intuitive video editor software, look no further than FilmForth. As a free windows movie maker and slideshow maker, FilmForth offers a wide range of features to help you create professional-looking videos.

As a movie maker windows 10, you have the ability to make movies from your photos, video clips, and music. With the option to easily join and combine video and photo, add music, transitions, text captions, and picture-in-picture, FilmForth makes it easy to create eye-catching videos.

Some of the key features of FilmForth include the ability to split, trim, rotate, flip, join and combine video clips, support transition effects for photos and videos, detach audio, freeze frame, and support enhancement effects like Clarendon, Gingham, Moon, and Lark.

In addition, FilmForth allows you to add and edit background music, voiceover, split, trim, adjust volume, and add fade in and fade out effects. You can also add and edit text captions, adjusting font, size, bold, italic, and color, as well as split text for optimal placement.

FilmForth also supports picture-in-picture, allowing you to split, trim, rotate, flip, join, and combine video clips with supported transition effects and opacity. Exporting your finished video is easy with FilmForth, which supports a variety of media formats including jpg, jpeg, bmp, gif, webp, mp4, wmw, avi, webm, ts, 3gp, 3gpp, m4v, mov, mkv, mts, m2ts, wmv, wav, m4a, and mp3.

Overall, FilmForth is a standout option for those looking for a free and easy-to-use video editing software. With its wide range of features and support for various media formats, anyone can create impressive videos with FilmForth.
What's New
Version 1.1: Fixes and improvements