This software provides quick access to your favorites through dialog boxes, start menus, quick launch, popup menus, tray, Total Commander, shortcuts, and middle clicks. It restores the start menu in Windows 8 and the quick launch in Windows 7, 8, or 10, and is available as a free download.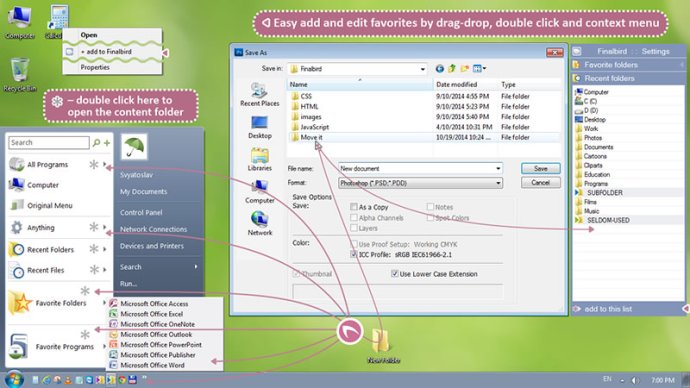 Finalbird is a software that provides you with quick access to your favorite and recent folders, programs and files using six convenient ways. With Finalbird, you can effectively open folders, files, programs, favorites and recent from anywhere you need.

The first way that Finalbird helps you access your folders, programs and files is by displaying a list of favorite and recent folders near "open"/"save as" dialog boxes. The second way is by using the middle click or keyboard shortcuts to open a popup-menu with all your favorites and recent items.

In addition, Finalbird allows you to access your favorite programs through compact quick launch panels, which feature icons of favorite programs with multiple grouping features. You can also access your favorite and recent items through the Start menu of Finalbird, which contains all the necessary features.

Another way that Finalbird allows you to access your folders, programs and files is through the popular Total Commander. You can open favorite and recent folders through a popup-menu using a middle click or keyboard shortcut. Finally, you can access everything through the tray with one icon that provides access to the popup-menu with a left click and settings with a right click.

Finalbird allows you to have the same favorites in every part of the program, which means that you'll have easy access to your most important items no matter where you are. You can use only the features you need and easily add folders, programs or files to favorites through the context menu or by drag and drop.

This software also helps restore the Start menu in Windows 8 and 8.1 or change the Start menu in Windows 7 and 10. The start menu of Finalbird has a clear and effective structure with the most frequently used items. It contains sections for favorite programs, favorite folders, recent files, recent folders, anything, original menu, computer, all programs, search and necessary features.

The quick launch panels in Finalbird resemble those in Windows XP and are compatible with Windows 7, 8, and 10. They are more compact, and icons can be included in many subfolders, even in visible taskbar icons. Finalbird is stable, ready to use, and has a code signing certificate.

Overall, Finalbird is an excellent software that allows you to access your folders, programs and files more quickly, making your work more effective and comfortable.
What's New
Version 2.5.724: Windows 10 support. Fixed rare occurrence bug (sometimes list of favorite folders has not appear near of dialog boxes). Anywhere-menu renamed to popup menu, subdivision System renamed to Anything. Increased speed of favorite folders list in dialog boxes.