Driver Detective finds and updates the latest drivers for your PC with its easy-to-use interface and vast database, featuring over 7.5 million drivers. Keep your system running smoothly with this powerful tool.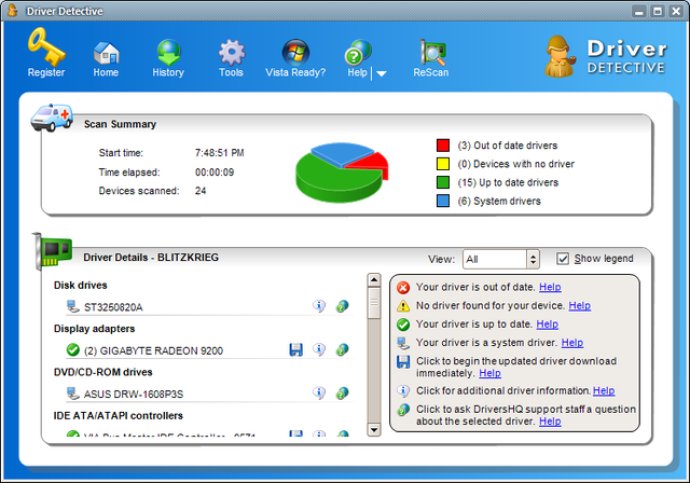 Driver Detective software is an essential tool for anyone looking to maintain and optimize their computer system. With an easy-to-use interface and an extensive database of over 7,500,000 device-associated drivers, Driver Detective ensures that your system is always up to date with the latest drivers.

Gone are the days of spending hours searching for driver updates or dealing with the frustration of incompatible drivers. With Driver Detective, you can easily identify hardware devices installed on your computer and locate the most current drivers available for those devices.

Whether you own a Dell, HP, or Compaq computer, Driver Detective recommends drivers specifically for your system. The program even features a Driver Backup Wizard, allowing you to copy and save your downloaded drivers to a CD, network drive, or USB flash drive, ensuring that you never lose important drivers again.

Driver Detective also prides itself on its exceptional customer support. With an experienced support staff available to assist you and a range of integrated customer support tools, you can rest assured that any issues you may encounter will be quickly and efficiently resolved.

If you're considering upgrading to Windows Vista, Driver Detective's Upgrade Wizard can help ensure a smooth transition. Driver Detective has been trusted by users since 1996, and with over 12 million installations and 150,000 daily downloads, it continues to be a leader in the computer driver update industry.

Try the free trial version of Driver Detective today and put an end to your driver woes once and for all.
What's New
Version 2012.2.39: Minor tweaks and optimizations
Version 2011.2.30: Minor tweaks and optimizations
Version 2011.2.29: Minor tweaks and optimizations
Version 2011.2.28: Minor tweaks and optimizations
Version 2010.2.25: Minor tweaks and optimizations
Version 2010.2.23: Minor tweaks and optimizations
Version 2010.2.22: Minor tweaks and optimizations
Version 2010.2.20: Minor tweaks and optimizations
Version 2010.2.19: Minor tweaks and optimizations
Version 2010.2.18: Minor tweaks and optimizations