Flashnote is a fast note-taking software designed to efficiently manage all types of text information. With easy accessibility and the ability to delete notes without fear, this software serves as a reliable aid to desktop productivity.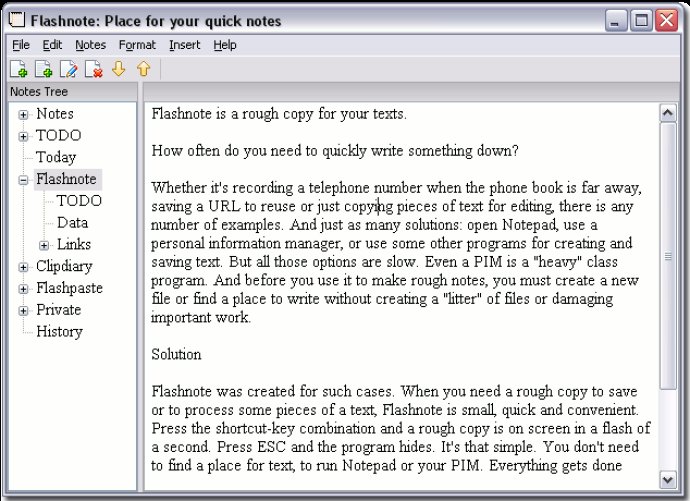 If you're always in need of a quick and lightweight way to jot down notes, Flashnote might just be the solution you're looking for. Whether you need to record a phone number, create a to-do list, or save a URL for later use, this notes manager is designed to be fast, small, and convenient.

Unlike more robust personal information managers (PIMs), Flashnote won't weigh your system down. It's a great choice when you need to quickly jot down some notes without worrying about damaging important data. Simply press the shortcut-key combination and the quick notes manager will appear on your screen in the blink of an eye.

It's important to remember that Flashnote isn't a replacement for Notepad or other text editors. Instead, it's a tool to use whenever you need to take down notes during your work process. And when you're done, just press ESC to hide the program.

If you're tired of slow note-taking methods, give Flashnote a try. You'll find it to be a helpful addition to your computer work.
What's New
Version 4.7: Version 4.7
Added: Database encryption support (AES-256).
Added: Customizable toolbar size.
Improved: A lots of small corrections and improvements.