FlixGrab is a robust and recently developed application that allows users to download popular videos from leading online streaming platforms like Netflix, Amazon Prime, Disney Plus, and HULU. It features a broad reach, and users can download and watch videos from anywhere with great ease.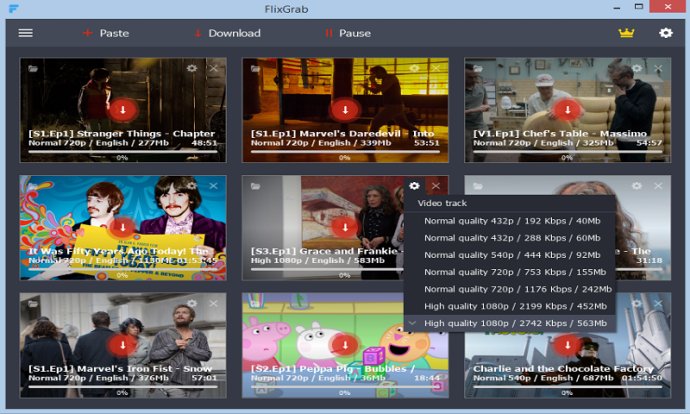 We are excited to introduce you to the FlixGrab application! It is a powerful tool used to download videos from various popular online video streaming websites. Access video content from Netflix, Amazon Prime, HULU, Disney Plus, YouTube, Facebook, Instagram and many more with just one application. FlixGrab is a freeware that is completely void of any adware, spyware, or any other unwanted software without any required registration.

We take respect in the copyright terms of streaming websites while disagreeing with their limitations on copying and sharing already purchased or free video content for personal use. Therefore, our programs are solely legal for personal use without the capacity to share the materials to third party members. FlixGrab in collaboration with Any Video Downloader surpasses any other video downloader from any streaming website.

FlixGrab is an easy and dependable application that can handle downloading both short videos and full movies and TV series. It works exceptionally well with all Windows devices providing users the ability to download and save video files to watch offline at their convenience.

Users can download an unlimited number of video files with the option of adjusting their settings and quality levels. The FlixGrab interface is not only simple, but it is also well-designed. Get ready to install FlixGrab on your PC and indulge in your favorite videos without any interruptions.
What's New
Version 5.3.10.1223: Bugs fixed
Version 5.3.8.1120: Bugs fixed
Version 5.3.5.1019: Bugs fixed
Version 5.3.4.916: Bugs fixed
Version 5.3.3.909: Bugs fixed
Version 5.3.2.727: Bugs fixed
Version 5.3.1.714: Bugs fixed
Version 5.1.41.325: Bugs fixed
Version 5.1.39.227: Bugs fixed
Version 5.1.36.131: Bugs fixed