FolderClone is an automatic file synchronization software that simplifies backup, replication, and mirroring of crucial files on various storage media such as CD-RW, network drives, and local disks. It guarantees flexible and swift operations, ensuring you "set it and forget it."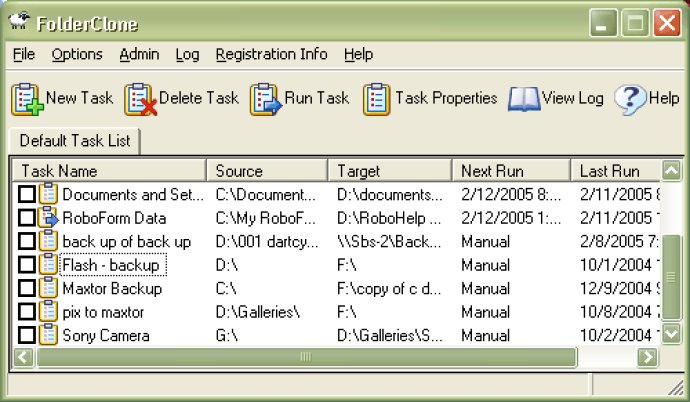 FolderClone, the latest synchronization tool developed by Salty Brine Software, is designed to make backup, synchronization, replication, and mirroring of important files fast, flexible, and easy. It's a powerful "Set it and Forget it" solution that's perfect for individual users, small businesses (SOHO), and even large corporations.

Individual users will benefit greatly from FolderClone. They can use it for backing up their data files and/or synchronizing laptops with desktops. Small and big enterprises alike will find FolderClone an indispensable part of their network infrastructure as it maintains high file availability, protects files, and simplifies sharing throughout the entire organization.

One of the best features of FolderClone is its ability to arrange synchronization needs into sets of "tasks". These tasks are sets of specifications that tell FolderClone exactly what files/folders to copy, where to copy them, and how often the operation should be performed. Once configured, FolderClone will monitor the "source" folders for updates and changes and will automatically copy new or changed files to the "target". This happens without any further user-interaction required.

Other features of FolderClone include an easy-to-use interface for creating and maintaining tasks, lists of synchronization tasks that can be created, loaded, and saved, three different file comparison methods (Date/Time, Size, and Contents), file copy that only occurs if target files are different than matching source files, an option to include or exclude subfolders, an option to include "All Files and Folders" or "Only Selected Files and Folders", and runs in the background while checking folders at user-defined intervals.

FolderClone gives users a range of options for checking folder synchronization intervals. These include manual, every few minutes, every few hours, every few days, and Only On Selected Days. All synchronization activity and errors are logged, and a report of the folder differences can be generated. FolderClone also supports UNC file path names to make sure all file paths are clear and easily accessible.

All in all, FolderClone from Salty Brine Software is a must-have synchronization tool for everyone. It simplifies the synchronization of files across different devices and lets users rest assured that their important files are safe and protected.
What's New
Version 2.1.0: Please see the website for complete details.