This software helps you create rankings for college Division FBS football teams, monitor conference races, team schedules, strength of schedule, polls, and the BCS standings.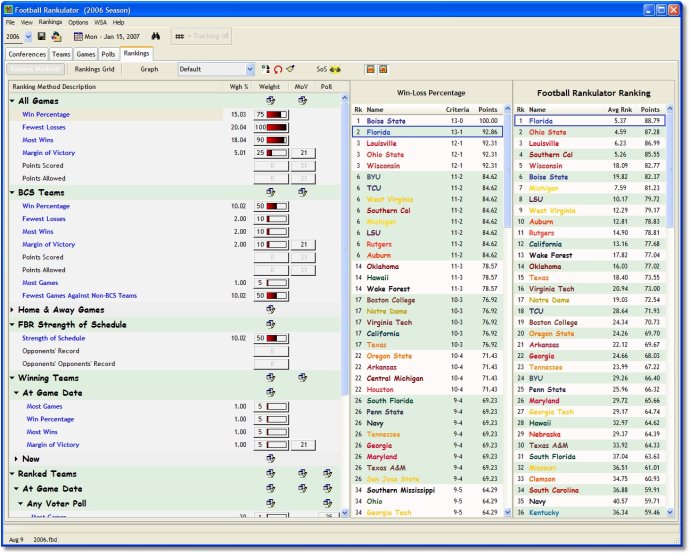 Football Rankulator is an exceptional software utility that revolutionizes the way you create computer rankings for college Division 1A football teams. This award-winning software empowers you to keep an eye on the conference races, team schedules, and strength of schedule, as well as the polls and the BCS standings.

In the beginning, we had the AP and Coaches polls, which were later replaced by the Bowl Championship Series (BCS). The BCS incorporated the AP and Coaches polls, adding strength of schedule, quality wins, and other computer rankings to the mix. However, computer rankings continued to remain shrouded in mystery, with the criteria and the reasons behind the fluctuations in rankings often hidden from plain sight.

Enter Football Rankulator – your very own solution to these problems. With this software, you get to create custom computer rankings from a range of ranking methods, and you decide what is important and what is not. You can also dictate the priority given to each ranking method, and if you do not like the results, you can simply change the criteria.

In addition to the ability to create custom rankings, Football Rankulator comes with a unique strength of schedule calculation. You can see opponent schedules and even opponent opponent schedules, and you have full control over how your version of the strength of schedule works.

You do not have to enter any data, as the software is programmed to provide Division 1A and 1AA data free of charge. This includes schedules, scores, as well as the AP, Coaches, and BCS numbers. Data files are regularly updated and can be downloaded directly, saving you significant time and effort. However, if you prefer to enter scores manually, you may do so as well.

If you follow Division II or III football, you can also easily enter their schedules and scores into the software for further analysis. Overall, Football Rankulator is a must-have for any college football enthusiast who wants to take control of their rankings and analysis.
What's New
Version 3.3.1: N/A