Forge is a tool that enables users and publishers to import a large amount of text into SwordSearcher Bible software modules without the need of the software's internal user editor. It is a free external module build tool.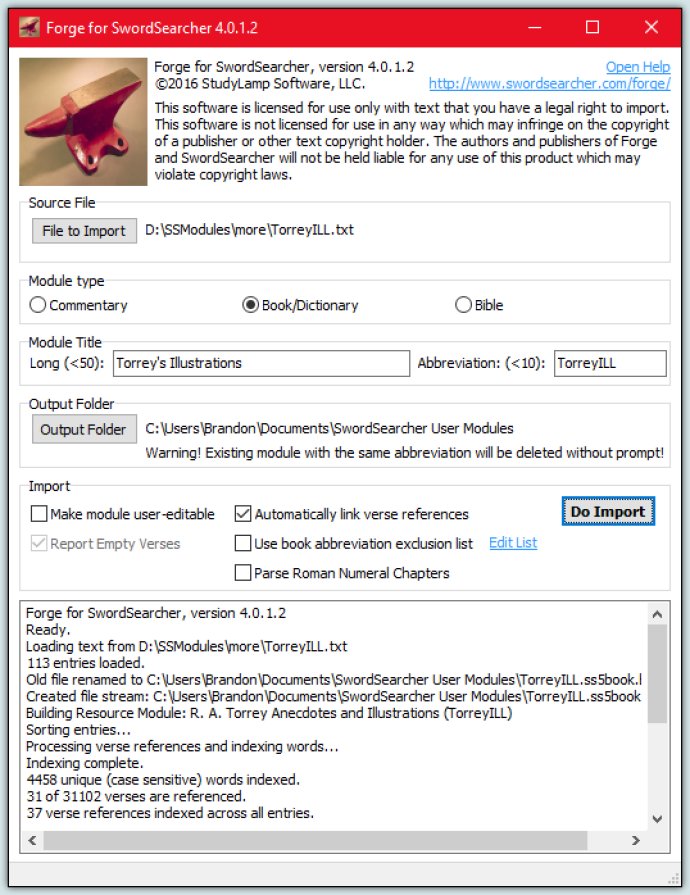 Forge is an exceptional external module build tool for SwordSearcher Bible Software that caters to publishers and users who require importing large amounts of text into SwordSearcher modules without utilizing SwordSearcher's internal user editor. Through this tool, anyone can publish their Christian-related content in SwordSearcher module arrangement, rendering it available to study and search for SwordSearcher users.

Forge can assemble SwordSearcher commentary, book, or Bible modules by taking a source text file that contains specially formatted text. Also, it enables to compile read-only or user modules. The default setting of Forge is read-only modules that can't be edited from within SwordSearcher, while SwordSearcher doesn't allow read-only modules to be exported to text files.

On the other hand, user modules are editable as any user-created SwordSearcher resource. It permits SwordSearcher to export user modules to text files, which could then be compiled with Forge if preferred. Furthermore, Forge provides an automatic linking and indexing feature for SwordSearcher, making it effortless to browse and access verse references.

Lastly, we should mention that Forge for SwordSearcher is a free tool that comes with no licensing fees, making it an affordable option for all who want to publish their text in SwordSearcher format without any added expense. Overall, we highly recommend this software for publishers and users alike who seek to create SwordSearcher modules conveniently and efficiently.
What's New
Version 3.1.1: Minor update