Mozilla Thunderbird saves emails in MSF and MBOX file formats. The MSF file is a summary file that indexes mail data, while the MBOX format stores all emails. The Free MBOX File Viewer Software opens MBOX files for viewing.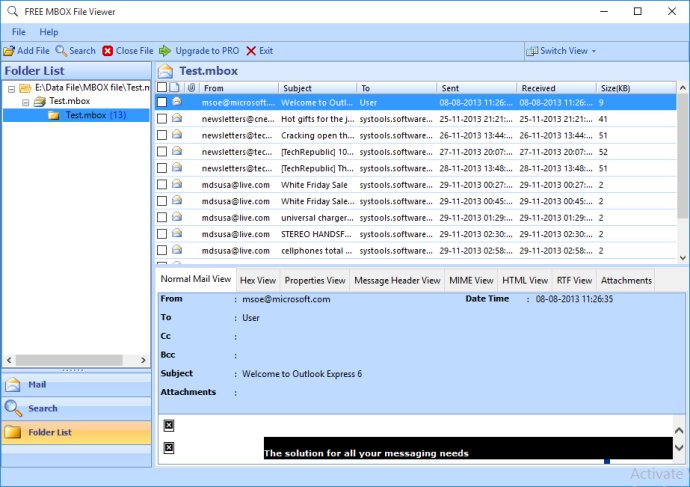 Introducing the Free MBOX Viewer Software - a powerful tool designed to help you easily view MBOX files. With this application, you get a comprehensive analysis of everything within your MBOX file, including email content and attachments. The Free MBOX File Viewer application maintains the directory and file structure to provide you with an in-depth study of your MBOX file.

One of the most notable features of this MBOX format viewer is its robust scanning feature. It ensures that you can easily view your normal or corrupt MBOX file without any loss of data. This software deals with corruption efficiently, so you will be able to view recovered emails along with their attributes.

The Windows MBOX viewer can be easily downloaded as it is compatible with different versions of the Windows Operating System. It can also be installed on your local machine with ease. The MBOX Viewer uses minimum hardware resources and completes the whole scanning process without any interruption.

Special features of the Free MBOX Viewer Software include the ability to view MBOX files' content easily, independent of any email client to open MBOX files with email properties, and the ability to open and read MBOX file emails along with attachments of any mailbox size. Additionally, the software is easy to use and absolutely free to download to open MBOX file mails. It also supports all Windows Operating Systems, including 10, 8.1, and 8.

In summary, the Free MBOX Viewer Software is a feature-rich software that provides everything you need to view MBOX files easily. It is easy to use, compatible with different versions of the Windows Operating System, and completely free to download. Download the MBOX Viewer now and start viewing your MBOX files for free!
What's New
Version 4.0: N/A