This software efficiently recovers data from damaged memory cards and enables users to save the retrieved files from memory and Compact Flash cards to any desired location on their computer.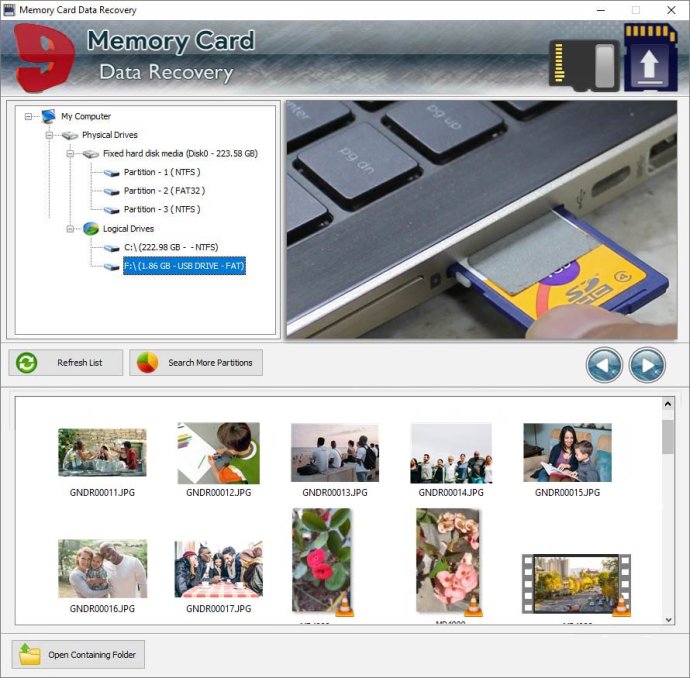 I recently tried out the Freeware Compact Flash Card Data Recovery software, and I found it to be extremely helpful for recovering formatted data from my memory card. The software boasts plenty of advanced tools and features to make the process as easy as possible, and the best part is that it's completely free of cost! Using this software is a breeze, thanks to its simple three-step procedure: select search type, start procedure, and restore files at a user-defined location.

What's great about this free data recovery software is that it can help you recover data in a variety of different data loss situations. The user-friendly graphical interface makes it easy to find and save missing files. For data recovery, users have the option to use Basic Search, Deep Search, Photo Search, Video Search, and Signature Search options, all of which make recovering data or files from a faulty memory card a breeze.

Basic Search is simple to use, as all you need to do is select the drive, click on the Next button, and your deleted data will be restored at the preferred location. When using Deep Search, the software gives you the option to recover data by selecting a range from the slider to assign a value to the start and end sectors. Signature Search enables you to recover data based on file extensions such as JPEG, DOCX, MP3, etc. Using the Photo Search option, you can recover all deleted images, while the Video Search option enables you to recover all deleted videos.

With the Free Data Recovery tool, users can recover unlimited file formats from Windows devices and storage media. If you need to recover more data from where you left off, you can load your previously saved log file into the software using the Load Log button in the freeware. The Save Data button allows users to save selective or all recovered data.

Other helpful features of the software include the ability to see the updated status of all connected storage devices using the Refresh List button, search for other partitions of connected memory card using the Search more partition button, and access assistance from the Help button in case you need it. Plus, the software supports all sizes of drives like 2GB, 32GB, 512GB and is available for all the versions of the Windows operating system.

Overall, I found the Freeware Compact Flash Card Data Recovery software to be incredibly useful and user-friendly. Its various search options help in recovering data or files from a faulty memory card, and the program's ability to recover unlimited file formats is impressive. Best of all, it's completely free and easy to use. Highly recommended!
What's New
Version 2.2.1.2: Added Support for Latest Windows OS Updates.Added Support for Latest Hard Disk Drives and other Removable Devices. Added Support for Higher Storage Capacity Drives. Added Support for All types of Files Updates.