This free online converter efficiently converts PDF data into editable AutoCAD DWG entities without any additional CAD applications. Key features include high-quality conversion of the original file and the availability of editable texts in the resulting DWG file.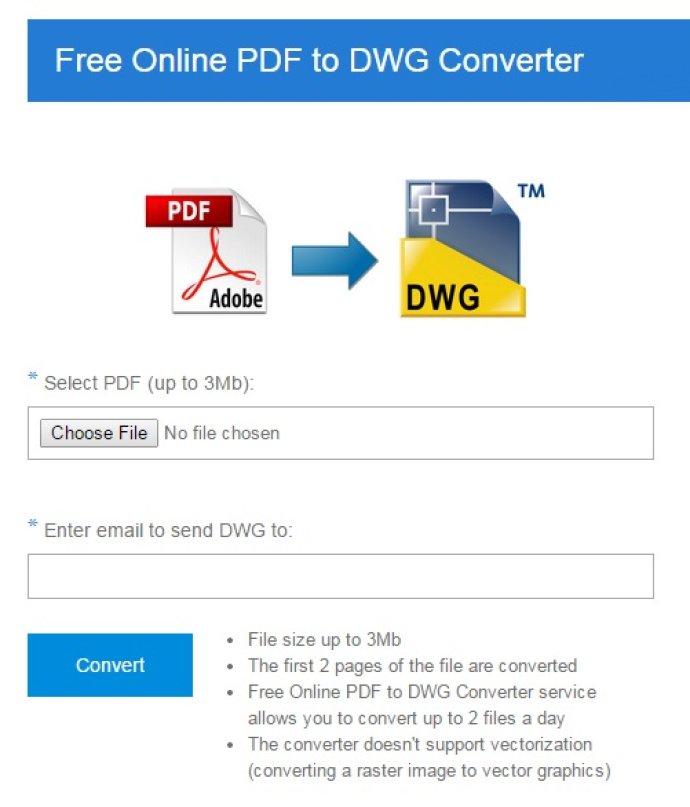 If you're looking for a reliable and efficient software to convert your PDF data to AutoCAD DWG entities, then you should check out the Free Online PDF to DWG Converter. One of the best things about this converter is that it doesn't require any other CAD application to work. This can save you a lot of time, especially if you want to get the job done quickly.

Another excellent feature of the Free Online PDF to DWG Converter is that you have access to all the entities in the converted file. You can also edit texts after conversion, which makes working with DWG files more efficient and easier.

The software ensures that the proportions of the drawings remain the same, which means that the converted file will almost look identical to the original one. Plus, smoothing arc objects can help achieve a higher precision of correspondence with the original file.

One of the best things about this converter is that it works on all platforms, including Windows, OS X, Linux, Android, iOS, and Windows Phone. So, no matter what device you have, you can use the Free Online PDF to DWG Converter.

The software has several key features, such as high-quality conversion, editable entities like lines, polylines, hatches, arcs, ellipses, and images, all objects on the layer being converted to the same layer, and the converted text matching the original text closely.

Overall, the Free Online PDF to DWG Converter is easy to use and fast to convert. Plus, you don't need any CAD programs installed on your PC. The software extracts CAD entities and saves them as DWG within minutes. With this up-to-date free converter, working with CAD drawings has never been easier!
What's New
Version 10: The Import PDF/EMF command imports PDF, EMF and WMF files in vector format;
Export into 3D file formats: STL, OBJ, OBJF, NMF, LMTS;
Embedding of Xref files into the current drawing;
Page to CAD command converts the active layout of the loaded file into the DWG/DXF vector format.