The free OST file reader software allows easy opening of emails and attachments, contacts, calendar, tasks, notes, and journal of an OST file. It's a standalone tool compatible with Windows OS 10, 8.1, 8, and 7. Download and install the tool for free.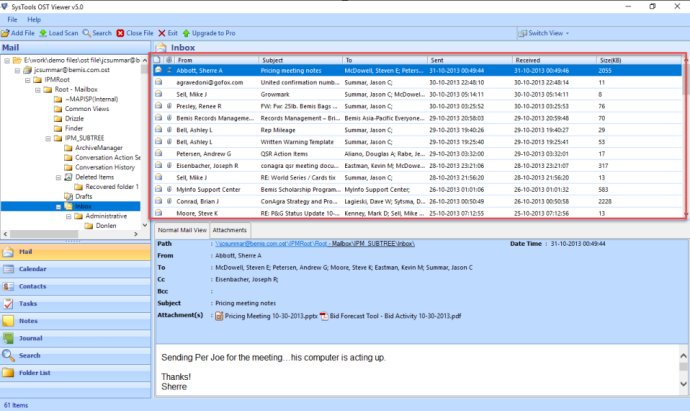 If you're in need of a versatile and efficient tool to open and view corrupted or password protected OST files, the Free OST File Reader Software is worth downloading. This small yet powerful solution makes repairing OST files effortless, and is perfect for computer forensic purposes.

The tool works on OST files that have been damaged or corrupted due to various factors, such as application faults, viruses, Trojans, worms, and more. Additionally, the Free OST Viewer can retrieve data from OST files that have accidently been deleted, including email messages, folders, posts, calendars, appointments, meeting requests, contacts, journals, and more.

What's great about the Free OST Viewer is that it keeps all the Meta details, such as to, cc, bcc, and sender, and attachments on all versions of the Windows operating system. Plus, it can repair and open OST emails and other stored contents on both 32-bit and 64-bit operating systems without any file size limitations.

The software requires minimal system requirements, including a Pentium II 1 GHz processor, 1 GB of RAM, and 24 MB of free hard disk space. The user interface is user-friendly, and even minimizes the chances of mistakes with its Windows Explorer-like interface.

Additional features of this software include advanced scan mode to recover deleted items, item count of each folder and sub-folder of the desired OST file, batch preview of OST files, and the ability to reload and view saved scan files. And the best part? Pre-installation of Outlook & MS Exchange Server is not required to open OST files. The Free OST File Reader is compatible with all versions of the Windows OS and Microsoft Outlook.

Overall, the Free OST File Reader Software is a reliable and powerful tool for anyone who needs to open and view corrupted OST files. With its impressive range of features and user-friendly interface, it's definitely worth giving a try.
What's New
Version 5.0: N/A