Free Photo Slide Show is a software that presents digital photos in a slide show with various transition effects. The program allows for a specific time frame per image, and effortlessly displays them in sequential order.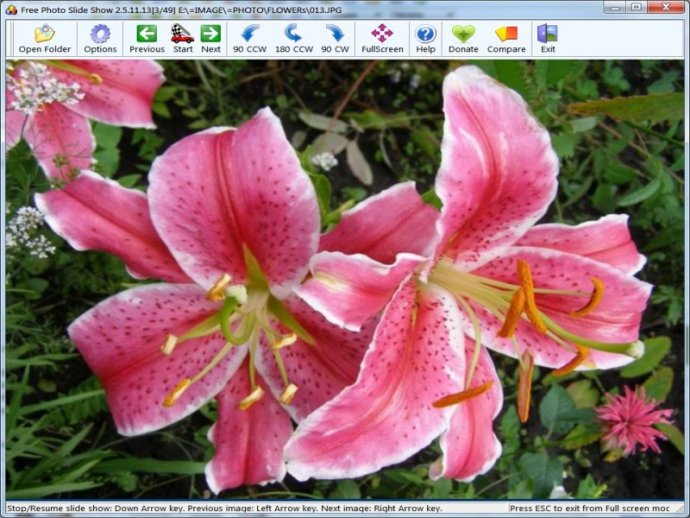 If you're looking for an effortless way to showcase your images in a continuous slideshow, Free Photo Slide Show is definitely worth a try. With this software, all you have to do is point it to a folder containing your images, choose your preferred display time for each picture, select your desired transition effects, and sit back to enjoy an uninterrupted show.

Free Photo Slide Show has a range of fantastic features that make it an excellent option for anyone looking for a simple yet powerful slideshow software. One standout feature is the ability to load up multiple formats of images, including tif, tiff, fax, gif, jpg, jpeg, jpe, pcx, bmp, dib, rle, ico, cur, png, wmf, emf, tga, targa, vda, icb, vst, pix, pxm, ppm, pgm, pbm.

Additionally, the software offers over 100 different transitional effects for you to choose from, and you can even preview them before making a final selection. Full-screen mode makes for a truly immersive experience, while preview images are displayed while your list is loading up.

One of the best features of Free Photo Slide Show is that it resamples images on-the-fly, which means that you won't have to worry about image dimensions or file types slowing down your slideshow. Other options include the ability to view selected items or all items in the current folder, forward, reverse, and random sequence options, and a repeat slide show option.

You can also adjust the slide delay and transition delay, choose a background color or images, and take advantage of HotKey buttons which include Front, Back, Stop, Start, and Exit from full-screen mode. Overall, Free Photo Slide Show is an impressive piece of software that is incredibly easy to use and provides excellent results.
What's New
Version 2.18.3.30: Ability to automatically open the previously selected folder at program starting.