GainTools TGZ to EMLX is a Windows application for quick and precise migration of data. It exports specific TGZ files to EMLX without affecting file quality, ensuring reliable data transfer.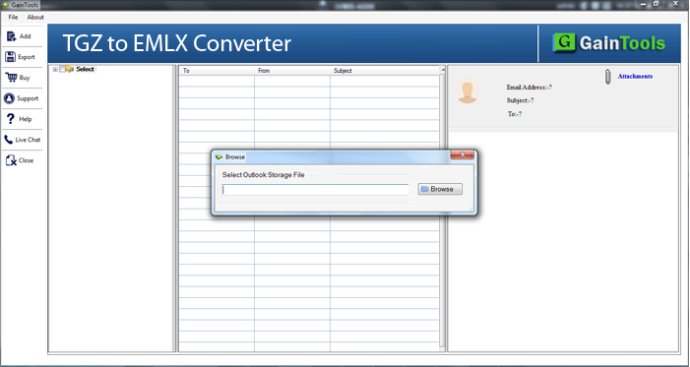 GainTools TGZ to EMLX conversion program is an efficient and easy-to-use software designed to aid users in converting Zimbra files to Apple Mail. This conversion application can be quickly installed on your Windows 10, 8, 8.1, and other previous versions of the operating system.

The software is straightforward and can execute the conversion process quickly and with ease. Even users with little experience can comfortably operate the application. In contrast to manual methods that require time and effort, GainTools TGZ to EMLX conversion program simplifies the entire process. Additionally, neither Zimbra nor MS Outlook, or any other applications, are required for the conversion task.

GainTools TGZ to EMLX conversion program has excellent data accuracy. Unlike other conversion tools that may mismanage files, corrupt data, or lose information, this application's data conversion process is precise and error-free, ensuring that no data is lost during the conversion process.

The software is lightweight yet highly efficient, allowing for quick installation on your Windows system within five minutes. The program's user-friendly interface is highly interactive and easy to navigate, making it accessible to all users, regardless of their technical expertise.

GainTools TGZ to EMLX is an advanced software capable of scanning and exporting TGZ files of any size to EMLX format. During conversion, the application exports all email attributes, including CC, BCC, To, From, Subject, Inline Images, and Attachments.

The utility is designed with the user's needs in mind- the software is available in three different formats, including individual, business, and enterprise, to fit your specific requirements. The individual version is reasonably priced and can install on one or two systems, while the free trial version is valid for 30 days.

In conclusion, GainTools TGZ to EMLX conversion program is a useful and efficient software for converting Zimbra files to Apple Mail. Download the application today and experience its benefits.
What's New
Version 1.0: N