GerbView software allows users to view, print and convert various file formats, including Gerber, PLT, HPGL/2 and Excellon. It also offers conversion options to PDF, DXF, DWF, CALS, TIFF and RS-274X formats, among others.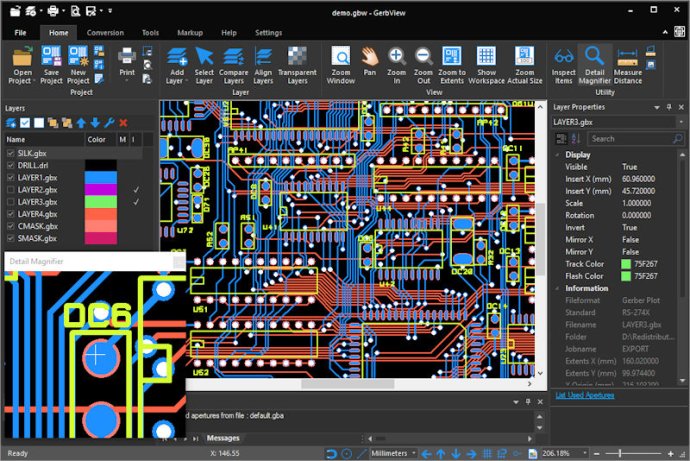 GerbView is an extremely powerful software that allows you to effortlessly view, print, and convert an array of file formats including Gerber, PLT, HPGL/2, Excellon, and more. With the ability to convert to PDF, DXF, DWF, CALS, TIFF, and RS-274X, among others, it provides unparalleled flexibility.

This software lets you visualize your designs, both on the screen and in hardcopy, making it easier to work on your projects. You no longer have to wait for photoplots or for your prototype circuit board to see the actual design.

Moreover, GerbView supports both RS-274D and RS-274X Gerber formats. It can also convert your older Gerber files to the new RS-274X standard format, which is preferred by most PCB producers. The new extended Gerber format has embedded aperture information, minimizing the risk of errors during the PCB manufacturing process.

Thanks to GerbView, markup elements such as text, arrows, lines, images, symbols, barcodes, qr-codes, ellipses, and polygons can be added to the workspace. These markups can be 'burned-in' to become a part of a Gerber layer.

In GerbView, users work with a workspace that can contain one or more files of the supported formats. The workspace can be saved for later use, and then linked to your design files. This way, you only need to reload the workspace file to see the entire design.

Finally, GerbView comes equipped with measure and query tools that provide you with information about distances, areas, and apertures, among other things. All of these features make GerbView one of the best software options for any PCB designer, engineer, or manufacturer.
What's New
Version 10: New major release.
New flat styled GUI with additional application themes, including Microsoft ® Office White, Colorful and Black.
New tool for comparing Gerber files. Result of comparison can be saved to a PDF file.
New tool for aligning Gerber and drill files.