Gladinet Cloud Desktop enables easy access to cloud storage from Amazon, Google and other providers, with file synchronization and data backup capabilities.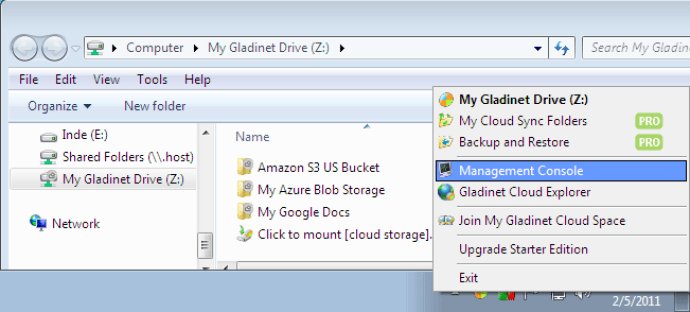 Gladinet Cloud Desktop simplifies access to cloud storage from providers such as Amazon and Google. This software facilitates document synchronization across multiple PCs, as well as backing up data based on user-selected file or folder types. The program provides access through a local drive on your desktop, giving you full control of your cloud files and folders through the Windows Explorer interface. Backing up dynamic data from applications such as databases is also possible with Gladinet Cloud Desktop.

The software provides support for both mirrored and snapshot backups. Mirrored backups preserve the latest versions of files in the backup set, while snapshot backups enable users to restore older versions of files. Some of the new features of version 3.2.799 include improvements to the Amazon Cloud Drive interface, as well as fixes for various bugs that enhance the overall reliability and functionality of the software.

Overall, Gladinet Cloud Desktop is a powerful tool for those who need to access cloud storage from multiple providers with ease, and who desire comprehensive backup options for their important data. Whether for home or business use, this software offers a simple and efficient solution for managing and safeguarding your cloud-based files and folders.
What's New
Version 3.2.799: N/A