GoodSync software effortlessly syncs and secures crucial files and folders across local, network, and removable drives, and servers such as FTP, SFTP, WebDAV, and S3. The tool offers advanced settings and no-hassle usability.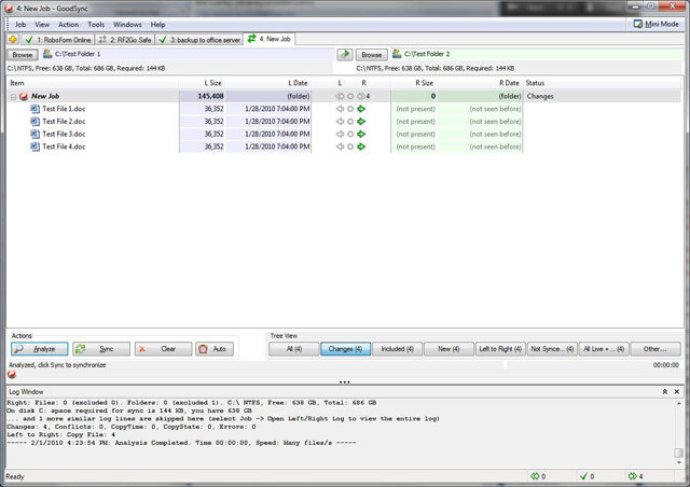 GoodSync is an intuitive and dependable file backup and synchronization software that simplifies the process of keeping your data organized, secure, and always accessible. With its automatic analysis feature, the software can efficiently synchronize and back up files such as emails, contacts, photos, music, financial records, and more. This is possible whether you need to apply synchronization actions locally between desktops or mobile devices, or remotely with FTP, SFTP, WebDAV or Amazon S3 servers.

Moreover, GoodSync adds GoodSync Connect to its functionality, enabling a seamless connection of multiple computers without the need to store files in the cloud. Regardless of whether you need an automatic, hands-free backup for your files, ensuring you will never lose them, or a stable and easy-to-use synchronization process between different computers and devices, GoodSync has got you covered.

GoodSync is a software specifically designed to cater for various users' needs, making it an excellent option even for beginners. The software's user interface is user-friendly, yet it packs numerous versatile options capable of handling even the most sophisticated requirements. All these features create a practical tool that genuinely enhances efficiency and productivity as it stores, syncs, and backs up all files securely from one location.
What's New
Version 12.1.6: New features, bug fixes
Version 12.1.4: New features, bug fixes
Version 12.1.3: New features, bug fixes
Version 12.1.2: New features, bug fixes
Version 12.1.1: New features, bug fixes
Version 12.0.9: New features, bug fixes
Version 12.0.7: New features, bug fixes
Version 12.0.5: New features, bug fixes
Version 12.0.2: New features, bug fixes
Version 11.11.7: New features, bug fixes