GorillaPDF is a free online PDF conversion tool offering file format options such as JPG, PNG, Text, Word, Excel, PPT, and HTML. It also provides features like encryption, decryption, merging and compressing of PDF files, and online OCR services.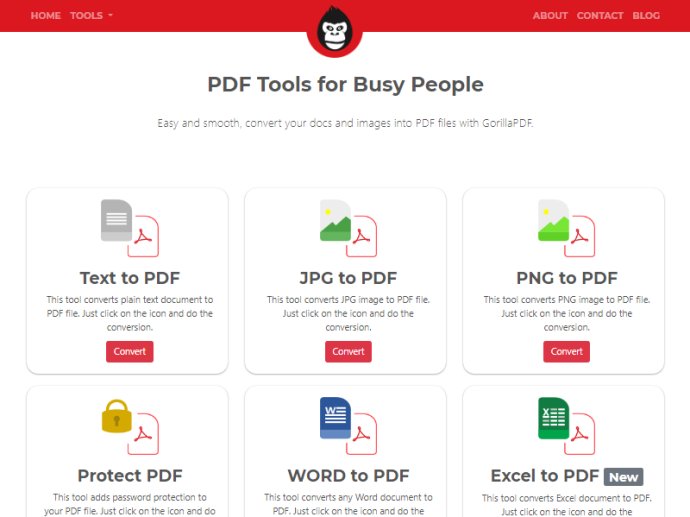 If you are in search of an outstanding online PDF platform, GorillaPDF is the way to go! This software offers a vast range of tools to convert file formats such as .txt, .jpg, .doc and more to .pdf. The best part is, these services are entirely free, and you can convert files as large as 50 MB!

Initially, the platform was released with only three services; however, it has grown significantly within two months to offer seven services. It now boasts of 16 free applications for working with PDF files where you can access popular service tools such as text to PDF, JPG to PDF, PNG to PDF, Word to PDF, Excel to PDF, Power Point to PDF, Encrypt PDF, Unlock PDF, PDF to Text, PDF Reader, Merger, HTML to PDF, and Compress PDF.

The latest addition to GorillaPDF is the online OCR tool, which allows users to extract editable text from an image in a PDF file effortlessly. On top of this, GorillaPDF offers maximum security and ensures the files uploaded to the server are protected. All uploaded files get deleted automatically after 12 hours.

The software employs modern and powerful technology, offering fast and reliable conversion speeds. The current official version of the software is 5.0. To sum up, if you are looking for a speedy and easy way of converting different file formats to PDF, you should consider GorillaPDF. This software is an excellent choice for individuals and organizations that want quick solutions for such tasks.
What's New
Version 5.0.4: New Online OCR Software
Version 5.0.3: New Online OCR Software