GotoHTTP offers a simple and efficient solution to remotely access your work computer using a web browser. It is a user-friendly online remote control tool with a compact size, allowing you to manage your remote computer with ease.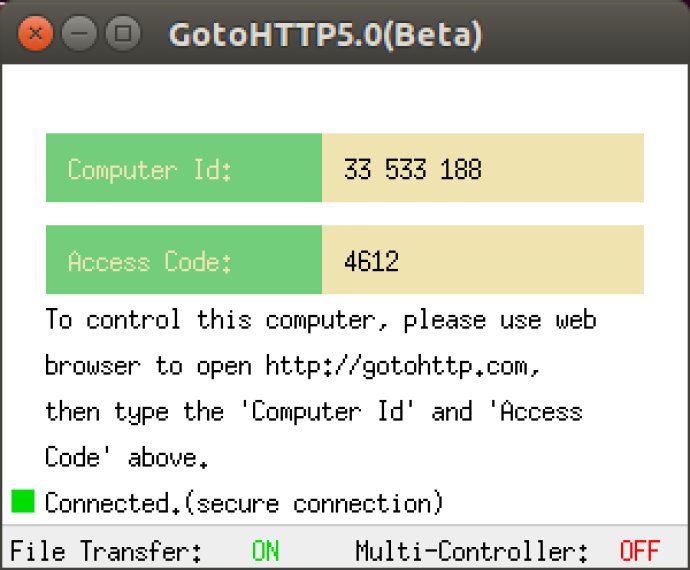 GotoHTTP is a remarkable remote control tool that enables users to control their remote work computer from anywhere using their web browser. Its seamless, intuitive, and user-friendly interface makes it the smallest and easiest remote control software available in the market. Besides, it boasts secure connections and can penetrate any firewall, providing users with a convenient and hassle-free experience.

To use GotoHTTP, users only need to download the software on the computer they would like to control, with its Linux version being only about 3M. Additionally, on the controlling side, users are not required to download any additional software or plugins. The software uses only the web browser to control the remote computer, transfer files, and allow multi-users to control one computer, making it an ideal choice for screen sharing during presentations.

Users can access the 64Bit Linux download link on the official website (gotohttp.com), while the 32bit edition download link is also available on the same site.

GotoHTTP comes with numerous features that make it the preferred remote control software for both individuals and businesses. These features include:

1. Access from anywhere: Users can control their remote computer from anywhere using their web browser, without the need for installing software or plugins.

2. Cross-platform: It allows users to control their remote computer from any device, including mobile devices, Windows, MAC, Linux, among others.

3. Mouse middle button support for Linux selection and paste: This feature allows users to use their mouse middle buttons to select and paste content from their remote computer.

4. Soft keyboard support: Users can send any keys to their remote computer effortlessly using the soft keyboard support feature.

5. Clipboard synchronization: With this feature, users can easily synchronize their clipboard between their local and remote computers.

6. Manage remote files: Users can manage remote files and transfer files between their local and remote computers.

7. Full screen view mode: GotoHTTP comes with various view modes, including full-screen mode, fitting in the window, and an actual size view mode. Additionally, it has an auto-scroll feature that follows the mouse when the remote desktop is larger than the local view.

8. Mouse wheel support: It supports mouse wheels for scrolling.

9. Self-adaptive on remote resolution changed: GotoHTTP adapts to the remote computer's resolution without any extra effort.

10. Unattended Access: Users can enjoy unattended access to their remote computer using GotoHTTP.

In conclusion, if you are in search of the best online remote control tool that is easy to use, fast, and secure, then GotoHTTP is just what you need. With its exceptional performance and an array of features, GotoHTTP is the perfect choice for both personal and business use.
What's New
Version 7.0: Clipboard synchronization , zipped and download files and folder, fix some major bugs.