This software allows you to use Windows sound applications and DVD players with an automatic equalizer that corrects audio streams and includes a limiter and compressor to ensure optimal volume levels.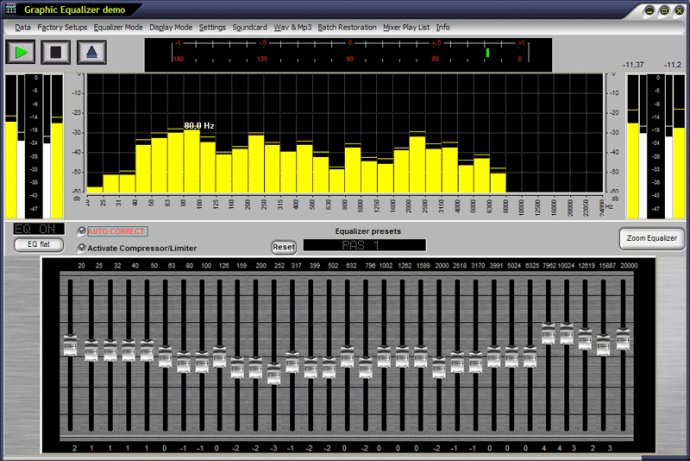 This software is a game-changer for any Windows user who wants to enhance their audio experience. It allows you to run any sound application or DVD player software above the built-in Equalizer. The Equalizer comes packed with a Limiter and Compressor, ensuring that the audio signal is neither too loud nor too low. When you load a WAV or MP3 file, you can immediately hear the difference and impact of the Equalizer. This feature is sure to impress you, making you feel like you have brand new sound speakers.

With this software, all the playlists you've made can be enjoyed with much better sound quality. You can use any sound application you want, thanks to the software's compatibility feature. For movies, you can watch them with nice bass sounds, and the built-in Limiter can help lower the loud passages, ensuring you get a comfortable listening experience. The compressor also enhances low signals by making them a bit louder, giving you better audio quality.

When you enable Auto Correct, the software scans all selected frequencies in the WAV or MP3 file to determine the minimum and maximum amplitudes. It will then correct any variations by automatically increasing or decreasing levels of attenuation at specific frequency intervals (usually 1/3 octave). This results in nearly linear frequency response, creating more consistent-sounding audio. This feature is particularly useful for internet radio stations that often experience inconsistency in true audio reproduction.

In summary, this software gives you a powerful set of audio enhancement tools, making your audio output sound much better. It is user-friendly and compatible with a broad range of audio applications. Try it out today!
What's New
Version 2022: Sound booster, realtime sound correction, 31 band equalizer, automatic sound correcton, feedback killer, mp3 restoration, automatic mp3 folder restoration