This software enables users to design personalized greeting cards by selecting from a range of pre-set designs, titles, and messages. With advanced print settings, it is easy to produce multiple copies of the customized card.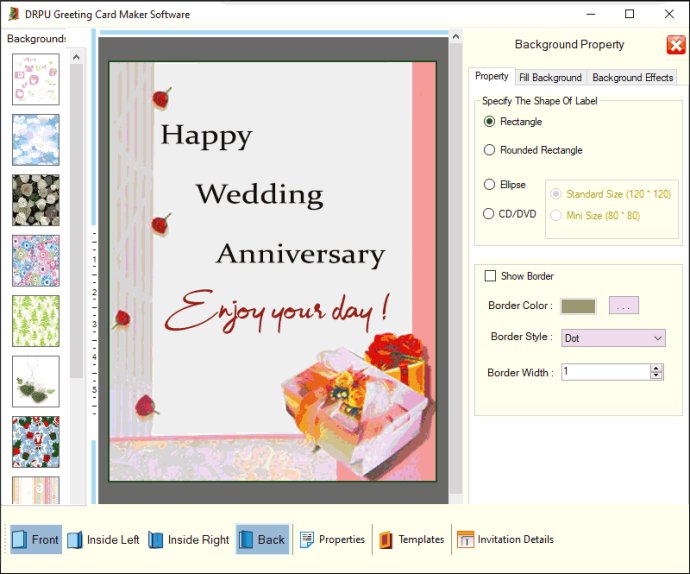 Are you looking for an efficient way to create beautiful greeting cards? Look no further than the Greeting Card Maker software! This amazing software is simple to download and install onto your Windows PC or laptop, making it easy to get started with your greeting card design process.

To create your custom greeting card, the software provides you with three options: Start Designing Using Templates, design greeting card using wizard and design greeting card using blank format. This gives you the flexibility to choose the design process that works best for you.

With the pre-defined templates provided by the software, you can create beautiful greeting cards quickly and easily by selecting designs, text, colors, and styles, and filling in the details like date, time, salutation, etc. The software also enables users to add a title and a message that they want to include in the greeting card.

The Batch Processing Series option is perfect for designing and printing bulk greeting cards with different barcode and text values at one time. This option supports MS-excel, notepad, and copy-paste manually, providing you with the greatest amount of control over your creation.

The Greeting Card Maker software provides an incredible array of advanced designing tools, including Line, Text, Shape Type, rectangle, rounded rectangle, and ellipse. You can also insert snaps, family photographs, images, clipart, and logos while designing your greeting card.

Once your design is complete, you can easily print your greeting cards using the software's standard toolbar and Print option. Adjust the printing settings as needed, and then press "Print" to create the perfect greeting card.

Lastly, the software has an inbuilt email feature that allows users to send their designed greeting cards to single or multiple email IDs at once. You can even save your greeting card design as a PDF or image file format and support various file formats like GIF, JPEG, BITMAP, PNG, and TIFF. With so many features, the Greeting Card Maker software is the perfect solution for anyone looking to create custom greeting cards quickly and easily.
What's New
Version 8.3.2.3: Added Support for Latest Windows 11 OS Updates. Added Support for High DPI resolutions Compatibility. Added new Barcode Technologies. Added additional Batch Processing Features to import Data from Excel Sheets.