Guitar and Bass software offers a range of essential features for fretted instruments like guitar, bass, banjo, and mandolin. It's completely free and includes reference materials, practice tools, and exercises to help musicians improve their skills.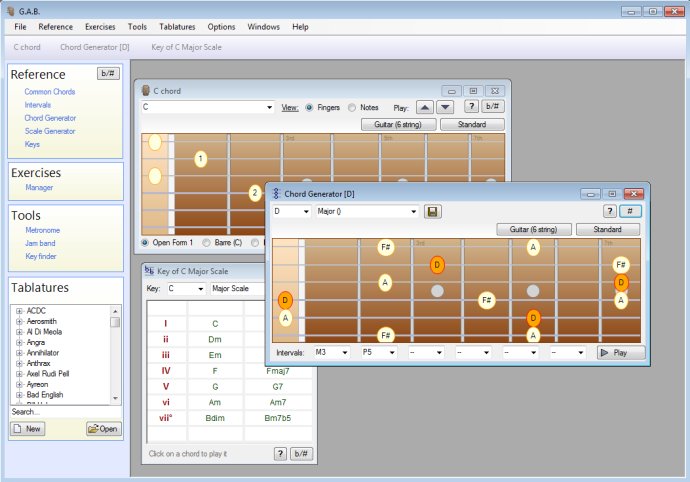 If you're a musician who loves playing stringed instruments, you can't go wrong with Guitar and Bass. This amazing software is designed specifically for fretted instruments such as guitar, bass, banjo, and mandolin, and comes loaded with every feature you could ever need to become a better player. The best part? It's completely free!

With Guitar and Bass, you get access to a range of useful features including scale, chord, and interval references, as well as exercises to help you improve your skills. You'll also find a tablature viewer and editor, ear training exercises, and practice tools designed to make your experience as enjoyable and easy as possible.

One of the best things about Guitar and Bass is that it's incredibly versatile. It supports a range of different instruments and tunings, including 6 and 7 string guitars, 4 and 5 string basses, and 4 and 5 string banjos and mandolins. Plus, if you need to add a new instrument, tuning, chord or scale, you can do so with ease.

Other notable features of Guitar and Bass include a comprehensive scale/chord/key reference, a tab editor with library function, and theory exercises designed to take your playing to the next level. There are also ear training exercises (for chords, scales, keys, intervals, and fretboard notes), fretboard notes exercises (to help you learn all the notes on the fretboard), an advanced metronome, and even a jam band to help you quickly write chord progressions and play over them.

Finally, you can enjoy audio samples from real guitars used to create the software, so you can be sure that you're getting an authentic, high-quality sound. All in all, Guitar and Bass is one of the best software tools available for anyone who wants to play fretted instruments like a pro!
What's New
Version 1.3: Updated compatibility with Windows 10/11