The Guitar Speed Trainer is a software for Mac and Windows that facilitates play-along guitar training for developing fast picking skills. Consistent usage for 20 minutes each day for a few weeks can significantly enhance the player's skills.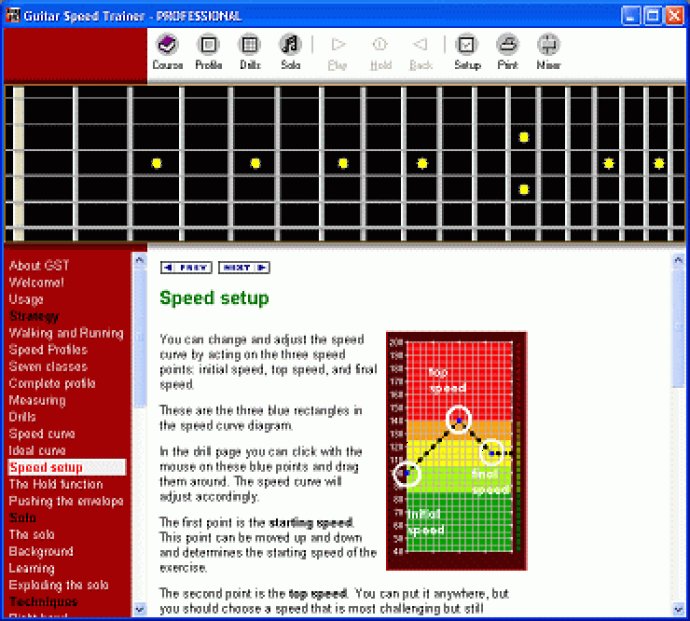 The Guitar Speed Trainer is an exceptional play-along training software that is compatible with both Windows and Mac operating systems. It is an ideal solution for anyone who seeks to improve their speed and precision when playing guitars. With this software, you can train to play scales, patterns, licks, and solos at burning speeds, resulting in a remarkable improvement in your playing.

The Guitar Speed Trainer offers 20 minutes of daily practice, which can help you achieve your goal in a few weeks. It is a comprehensive training program that covers various techniques, including alternate picking, semi-alternate picking, sweep picking, tapping, and other exotic techniques. Such training is essential for any guitar player who seeks to train their fingers to move with speed and precision.

This software is excellent for anyone who wants to improve their guitar playing skills quickly. It is all you need to advance your playing ability to levels that you never imagined possible. Once you start using it, you will notice significant improvements in your playing speed and precision. Therefore, if you want to take your guitar playing skills to the next level, the Guitar Speed Trainer is an exceptional piece of software that you should consider using.
What's New
Version 3.0.1: 5-minute solo. Half-speed option.