Hasleo Backup Suite is a free software providing backup, restore, and clone functionalities for Windows devices and servers. It offers easy-to-use features to ensure data safety and protection, making it an all-in-one solution for users.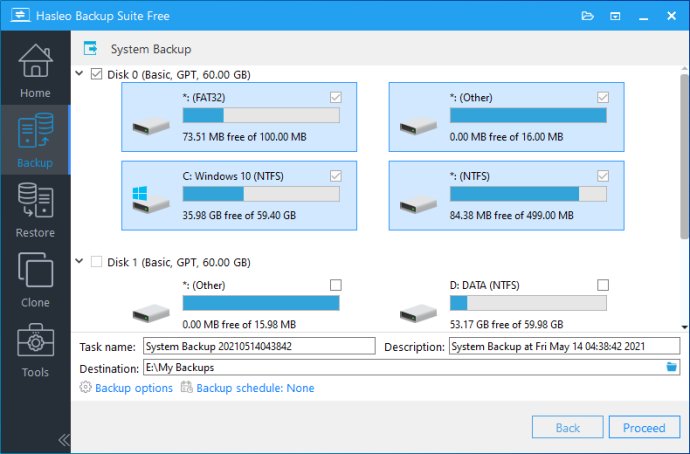 Looking for a simple Windows backup and restore software? The Hasleo Backup Suite is what you're looking for! This software offers backup, restore, and clone functions all in one convenient-to-use package. And the best part? It's completely free!

The Hasleo Backup Suite is designed for Windows OS users and can be utilized on both Windows PCs and servers. Its backup and restore feature significantly reduces the time it takes to backup and restore your operating systems, disks, partitions, files, and folders. This means your data is safe and secure, giving you peace of mind.

The cloning feature of this software is an added bonus. It effortlessly helps you migrate your Windows to another disk or assist in upgrading to an SSD or larger capacity disk. Additionally, the Hasleo Backup Suite comes with a bootable Windows PE emergency disk, making it a life-saving tool in the incidence of a disaster, such as a system crash or disk corruption.

This software is not like any other simple backup and restore software. It comes equipped with features including backup modes, such as full, incremental, and differential; compression, encryption, and splitting of backup image files; automatic and regular backup schedule, MBR to GPT conversion, GPT to MBR conversion, Universal Restore, centralized backup task management, email notification, and multi-language support.

Hasleo Backup Suite is an essential software for anyone looking to keep their personal data and Windows operating system safe. It's compatible with Windows Vista/Server 2008 or later and fully compatible with GPT and UEFI. Give it a spin today and keep your data safe!
What's New
Version 3.5: 1. Clone or restore to contiguous space
2. Perform actions (check backup image, power plan) after backup completes
3. Fixed bug: Fixed some issues that caused service program to crash
4. Fixed bug: Fixed some issues that caused file backups to fail
5. Fixed some bugs to improve product quality
Version 3.2: 1. Improved performance of the file backup feature
2. Fixed bug: Windows cannot start after restoring the isolated Windows partition
3. Fixed bug: Wrong disk was formatted while creating the USB emergency disk
4. Russian language support
5. Fixed some bugs to improve product quality