Hasleo NTFS for Mac offers a convenient solution to access NTFS drives on Mac by allowing users to easily mount and unmount, as well as read and write data from NTFS drives on macOS and OS X.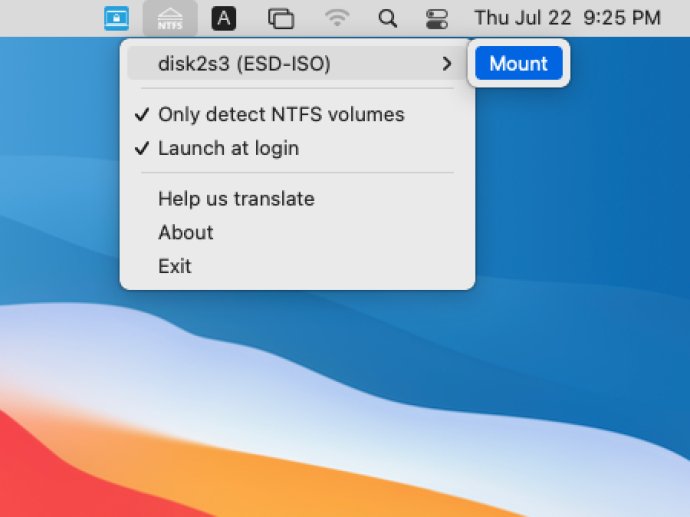 Hasleo NTFS for Mac is an impressive software that enables users to easily and quickly mount or unmount NTFS drives from their Mac's status bar. This free and powerful tool facilitates full read-write access to NTFS drives on macOS. With Hasleo NTFS for Mac, you can effortlessly exchange files between Windows and Mac using NTFS formatted removable storage devices.

By default, the software lists only NTFS drives. You can, however, uncheck the 'Only detect NTFS volumes' option to display drives formatted in HFS+, APFS, FAT, or exFAT. With this feature, you can mount, open or unmount them in the same way you operate NTFS drives.

In addition to the smooth and easy process of mounting and unmounting NTFS drives, Hasleo NTFS for Mac boasts several amazing features. Users can enjoy the automatic launch of the app after logging into their Mac, making it even more convenient to use.

The software is compatible with many macOS versions, including Ventura 13 to High Sierra 10.13. Furthermore, it supports various devices such as hard drives, external hard disks, SSD, USB drives, SD cards, and CF cards. Supported file systems include NTFS, HFS+, APFS, FAT, and exFAT.

Overall, Hasleo NTFS for Mac is an incredibly useful software that allows for seamless communication between Mac and Windows by offering stability, reliability, and full read-write access to NTFS drives. It is an easy and reliable tool that you must consider if you work on different platforms.
What's New
Version 4.6: 1. Fixed some bugs to improve product quality