Create healthcare barcode labels quickly and easily with the Barcode Label Maker software. Design and save high-quality labels in multiple graphic formats, including TIFF, JPEG, and PNG. Share labels easily through email.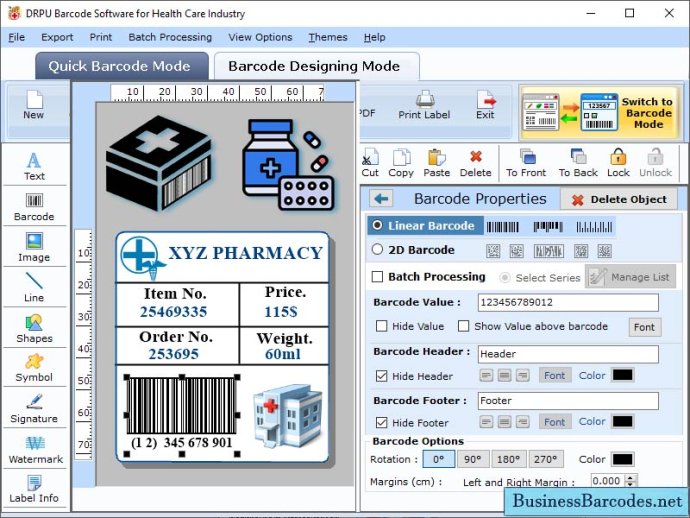 If you're looking for a healthcare barcode label maker software that can help you manage and generate high-quality barcode images for labeling healthcare products and managing complete healthcare industry product details efficiently and accurately, then look no further. This software is your all-in-one solution.

One of the great things about the healthcare barcode maker software is that it allows you to create, scan, or manage barcode. This software can also generate unique barcodes for healthcare workers so that they can generate different barcode images for each patient.

In case you're not familiar with barcodes, they encode information in some kind of pattern that is machine-readable. You can store a variety of information in a single barcode image and access relevant information by simply scanning it. The software offers different types of barcode fonts, with linear font and two-dimensional font being the most commonly used.

The barcode maker application is equipped with a special data capture technique that allows it to access all of the information about any product automatically in minimal time. Fortunately, the software features a streamlined user interface, making it easy for professional healthcare workers to navigate through the program smoothly. Even staff members with no prior experience can learn to use the software.

If you're looking to reduce costs for your healthcare operation, the healthcare barcode maker tool can help improve efficiency, reduce losses, and keep things well-organized and sorted. With the help of the barcode maker software, you can create bulk barcodes in a short amount of time, saving users time and resources.

Overall, the barcode maker software for the healthcare sector ensures seamless control over drug tracking, avoiding unwanted delays, patient safety, and providing better patient care for healthcare professionals. Get your hands on this effective and affordable software today!
What's New
Version 3.5: N/A
Version 2.5: N/A