Heimdal PRO software is a security suite that protects against cyber threats, which antivirus software cannot block. It guarantees security against malware, phishing, data leakage, and Zero Day attacks.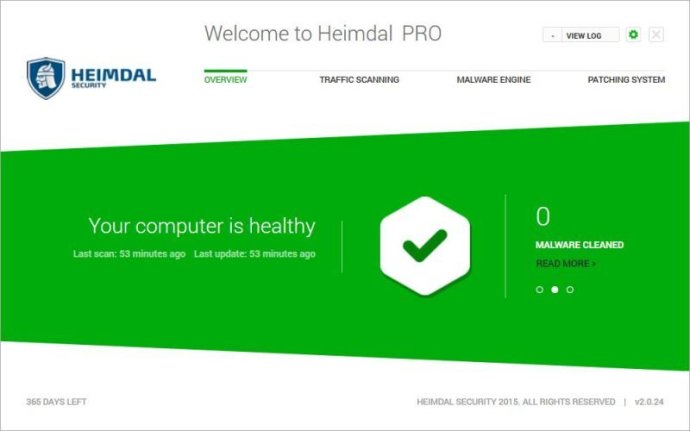 As a cyber threat security suite, Heimdal PRO provides comprehensive protection against attacks that traditional antivirus software cannot block. The software scans Internet traffic for potential threats and effectively blocks them before they can penetrate the system. With continuous patching of critical, vulnerable software and filtering of Internet traffic, Heimdal PRO goes above and beyond to ensure increased security levels against advanced malware attacks, phishing attempts, data leakage, exploits, and Zero Day attacks.

One of Heimdal PRO's strengths lies in its ability to detect financial malware and other complex forms of malware that often go undetected by traditional antivirus solutions. This is due to the fact that Heimdal looks at traffic rather than local files. As such, Heimdal PRO can seamlessly supplement any existing antivirus software, and is compatible with all antivirus solutions.

Heimdal PRO is backed by a robust intelligence database that is updated regularly with the latest threat information. This provides a proactive layer of security that is essential in combating even the most sophisticated forms of cyber attacks. With Heimdal PRO, users can conduct financial transactions with peace of mind, protect their sensitive data from exfiltration, and ensure their system is always up to date.

In sum, if you're looking for a reliable and comprehensive cybersecurity solution, Heimdal PRO is a top-tier option. With its cutting-edge technology and proactive approach to security, it's an essential addition to any online security architecture.
What's New
Version 2.2.9: Improved DNS resolutions, greatly reduced CPU usage and enhanced user experience.