Transform your PC into a virtual hockey scoreboard with our software. Ideal for scorekeeping hockey games in various facilities, it uses existing computer and display. Download now to enhance the scoring experience.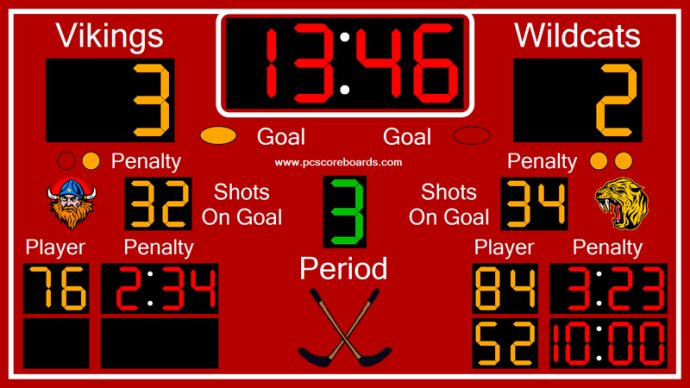 Are you in need of a virtual hockey scoreboard? Look no further than Hockey Scoreboard Pro, our top-rated software that transforms your PC into a state-of-the-art scoreboard. Whether you're keeping score at a gym, rink, arena, or multipurpose facility, our software download is the perfect solution for your needs.

Our scoreboard software features a simple mouse and keyboard interface, making it easy for you to manage all the functions of the computer scoreboard. With Hockey Scoreboard Pro, you'll save money by avoiding the costs associated with purchasing a physical scoreboard. Plus, our software is portable and can be easily moved between different locations.

One of the biggest benefits of using our software scoreboard is the flexibility it offers. With just one hardware setup, you can switch between different sports, something that fixed scoreboards can't match. And with our free shareware option, you can try out our scoreboard download for yourself before committing to a purchase.

Hockey Scoreboard Pro comes with a wide range of features designed to enhance your scoreboard experience. You'll have access to a full-screen mode, a secondary control screen for managing penalties, customizable scoreboard colors, high visibility LED digits, and more. The design is clean and simple, making it easy for spectators to read the score from a distance.

Our scoreboard software is also incredibly user-friendly. You can easily navigate around the scoreboard using a mouse, keyboard, or even keyboard tabs if you're looking for mouseless control. You can adjust the software display to fit most monitors, making it easy to use no matter what device you're working with.

Finally, Hockey Scoreboard Pro is packed with features to help you manage the game. You'll have access to all the necessary game clock and timeout clock functions, plus customizable team names, logos, and pictures. You can track goals, penalties, shots on goal, and more. Plus, with customizable keys and color options, you can tailor the software to match your team's colors and streamline your scorekeeping efforts.
What's New
Version 2.1.5: Minor Technical fixes.
Version 2.1.4: Rearrange top of display screen elements.
Version 2.1.3: Add new option to disable any or all selectable key options.
Add option and button to start / stop all penalties at once.
Version 2.1.2: Updated installer.