Homebase simplifies hourly work management for over 100,000 local businesses. It offers free features such as shift scheduling, time tracking, team communication, and hiring to streamline paperwork and free up time for managers and employees.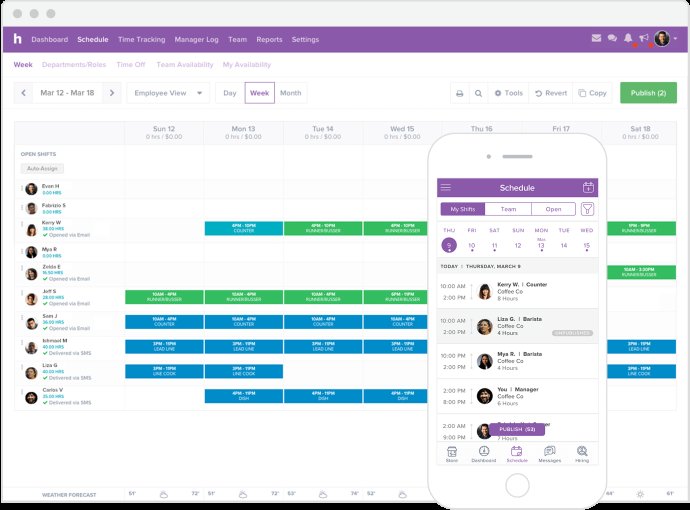 As someone who's been involved in managing and owning local businesses, I know firsthand how tough it can be. From daily headaches to keeping up with paperwork, running a business can be exhausting. However, I also know how rewarding it can be to see your business thrive and bring joy to people's lives. That's why I was excited to try out Homebase.

Homebase was launched in 2015 with the goal of simplifying the time-consuming, inefficient paperwork that comes with managing hourly employees. With their easy-to-use online timesheets, scheduling, and communication tools, Homebase makes managing your team a breeze. Even better, it doesn't matter what size your business is – Homebase has something to offer you.

One of the things I appreciated most about Homebase was their cloud-based time clock and timesheets. You can track employee hours from anywhere while saving time on preparing payroll. The online scheduling tools also make building a schedule less time-consuming, and you can easily publish it on mobile and through the web for everyone to see.

As a business owner, I know that labor costs are one of the biggest expenses you have to keep track of. That's why Homebase's labor cost management tools are incredibly useful. With these tools, you can stay on top of your expenses and make sure your business is running smoothly.

Finally, the mobile messaging feature is a great way to keep everyone on your team coordinated and connected. Whether you're on the go, or just need to send out a quick update, the messaging feature makes communication easy.

Overall, I'm so glad I tried out Homebase. It's helped me save time and streamline my business management, so I can focus on what really matters – providing great service to my customers.
What's New
Version 1.0: Introducing Homebase Hiring! Now you can save time hiring with pre-written job descriptions and free syndication of your jobs to all the top online job boards -- all for free!