The IronSoftware How to Read Excel File CSharp tool empowers projects to read, create and edit Excel files without intermediation and minus Microsoft Office installation. It augments project capacity.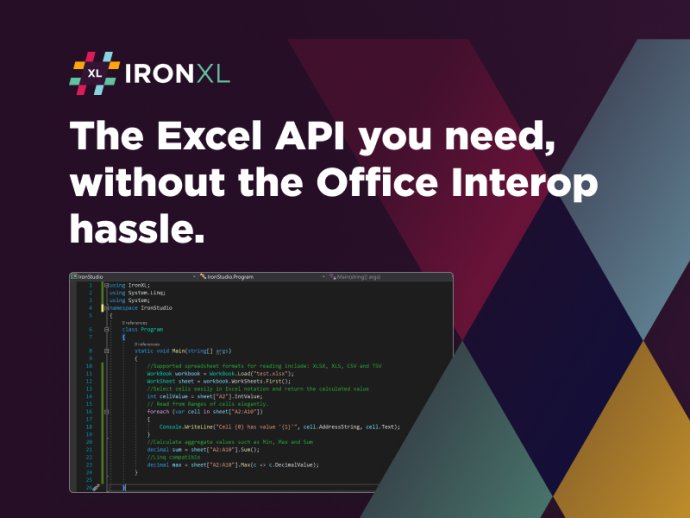 IronSoftware has released a new application tool called How to Read Excel File CSharp. This tool allows users to read, edit, and create Excel formatted spreadsheet files within C# .NET projects without requiring the installation of Microsoft Office applications or using Interop on the project server. This innovative approach provides a more versatile way for builds to offer end-users with necessary capabilities for spreadsheet management without tying up valuable resources to make the full Excel software application operate.

How to Read Excel File CSharp supports data import and export in .xls, .xlsx, .csv, .tsv, and .json file formats, enabling a broad range of workflow integration for your project. This means anything from classroom attendance sheets to accounting verification worksheets of bookkeepers can be used within the C# ecosystem. Users still have the ability to format and style the individual cells and worksheets to their preferred font, size, pattern, border, alignment, and other needs and can set ranges in the same letter:number format as the native Excel application.

The How to Read Excel File CSharp tool fully supports projects developed inside .NET 5, Core, Standard, Framework, and Azure builds. The tool is free, providing a much better method of ironing out your processes compared to open-sourced software because it eliminates the need for additional time and resources spent trying to repair bugs and errors.

This tool is a much better-priced alternative to enterprise-level applications because payment is only required upon reaching the deployment phase. IronSoftware provides different licensing options for How to Read Excel CSharp on their website. For more information about the features and benefits of How to Read Excel File CSharp, please visit the website /mhamzap10/c-read-excel-file-4g08.
What's New
Version 2021.12: * Improved: Support for .NET 5 and .NET 6 beta
* Improved: Speed and Stability
* Improved: Logging