HTML Guard is user-friendly software that facilitates copy protection for website content. It provides features such as HTML code encryption, right-click menu lock, text selection disablement, and browser print function blockage.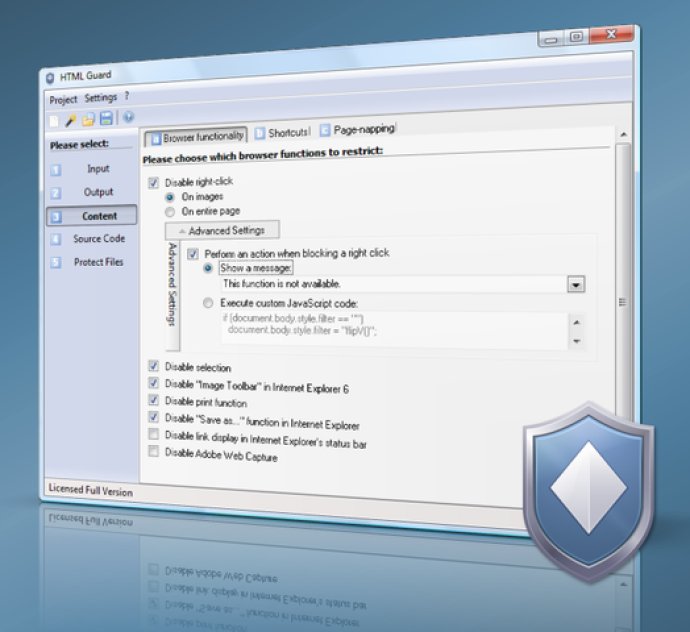 HTML Guard is an impressive software solution perfect for safeguarding web content against unauthorized copying. It enables you to protect all parts of your website, including HTML code, images, text, or links. With HTML Guard, you can quickly secure your site with its powerful and intuitive features.

One of its core features is the HTML source code encryption that prevents malicious users from accessing and copying your code. Additionally, it can disable text selection, right-click menu, and even the browser's print function. Rest assured that HTML Guard's robust protection mechanism does not affect the compliance of your pages to industry standards; it merely alters and extends the source code for better security.

Unlike other software solutions, HTML Guard does not require any special add-ons or installations, whether on the browser or the web server. Running the software is easy, and its user-friendly interface allows for a smooth setup process. Even beginners can take advantage of its built-in wizard to protect an entire website containing thousands of pages with just a few clicks.

If you're interested in HTML Guard, you can check it out via their free demo version, where you can experience all its features and functionalities without any commitment. Protect your website today with HTML Guard, a comprehensive software solution equipped with powerful features that provide maximum protection.
What's New
Version 3.3.1: N/A
Version 3.2.2: N/A
Version 3.2.1: N/A
Version 3.2.0: N/A
Version 2.33: N/A
Version 2.32: N/A
Version 2.31: N/A