HTTPhotos allows you to easily create customizable photo galleries using HTML and SVG templates. With drag-and-drop functionality, captions, and editing options such as luminosity adjustments and cropping, you can create multiple albums with ease.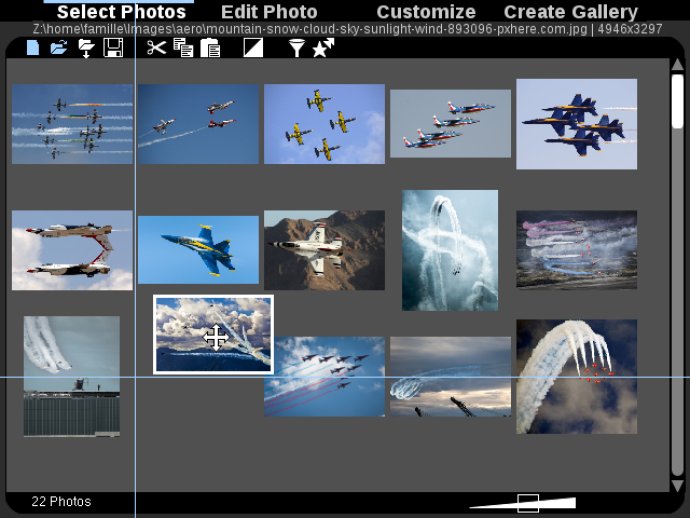 HTTPhotos is an impressive software that lets you create stunning web photo galleries in just a few clicks. With its powerful features and easy-to-use interface, it has become a popular choice among photography enthusiasts.

One of the best things about HTTPhotos is that it allows you to embed web templates and background textures without the need for third-party plugins. This means that you have complete control over the look and feel of your gallery, giving you the flexibility to customize it to your liking.

Importing photos is a breeze with HTTPhotos. You can import your photos straight from your memory card, USB key, or hard drive, and they will be displayed as thumbnails that you can reorganize by drag and drop. What's more, all imported photos are read-only and are never edited since HTTPhotos works on copies.

The software also comes equipped with a rating and exclusion feature, which allows you to quickly select the photos you want to include in your gallery. Plus, it automatically rotates your photos according to the orientation from EXIF data.

The basic editor capability of HTTPhotos allows you to adjust luminosity, contrast, crop, and add captions to your photos, giving you the ability to enhance your images without relying on external editing tools.

When it comes to customizing your gallery, HTTPhotos gives you plenty of options. You can select from a range of templates, colors, and textures, and see the changes in real-time with the instant preview feature. The smart browser preview ensures that photos that have already been processed are not processed again, saving you valuable time.

One of the standout features of HTTPhotos is its ability to add watermarks with copyright, helping you protect your work and prevent unauthorized use.

Finally, you can maintain a home page referencing all the galleries you have created, making it easy to showcase all of your work in one convenient location. And, thanks to its lossless jpeg decompression and bilinear filter, HTTPhotos is incredibly lightweight and has a fast start-up time, making it a pleasure to use.

Overall, HTTPhotos is an exceptional software for creating web photo galleries. It's packed with features, incredibly easy to use, and produces stunning results. If you're looking for a powerful photo gallery creator, look no further than HTTPhotos.
What's New
Version 4.13: Fixes image index when editing and publishing an album. Improved album templates.