Create, edit and manage Windows 10/8/7 icons with our icon editor software. Multi-layer design mode offers enhanced image customization. Batch conversion options save time, while icon library management and image format import provide increased flexibility. Made with love!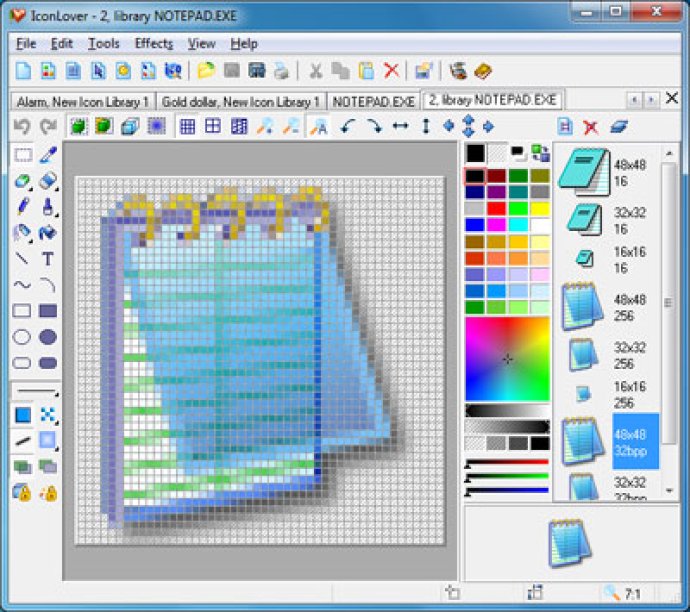 IconLover is an excellent software for icon designers, software developers, and desktop customizers. With this all-in-one solution, you can create, edit, manage, store, search, import, download, and convert icons and cursors of various formats including packed Windows 10/8/7/Vista/XP icons.

The icon software has all the necessary features that will satisfy an experienced designer such as layers design model, alpha-blending, a wide range of special effects, sophisticated transformations, and more. You don't need to switch between several applications as IconLover has everything you need and displays it all in the same window using the popular tabbed interface.

With IconLover, you can browse icon libraries, import icons from various resources, and drag files from your Windows Explorer windows. It also supports batch operations, making it easy to accurately convert large collections with only a few mouse clicks.

IconLover is compatible with a vast variety of formats, including BMP, JPEG, GIF, PNG, base64 PNG, TIFF, WMF, WBMP, CUR, Unix icons and cursor resources (XPM and XBM), and even AI, PDF, SVG images. All of these features are accompanied by a superbly efficient interface, saving you time and making your work more productive.

IconLover is created by and for designers to make icons, and it is made with love! Additionally, you can order custom icon design from aha-soft.com. If you are looking for an unparalleled icon editor, IconLover is the software for you.
What's New
Version 5.45: Improved: Ability to import PNG8 images with alpha channel. Added: Ability to import icons from 64-bit DLLs.