ID Computer Spy scans user actions on a PC, providing complete data through a highly efficient spying mechanism. It is a reliable program that delivers top-notch spying services.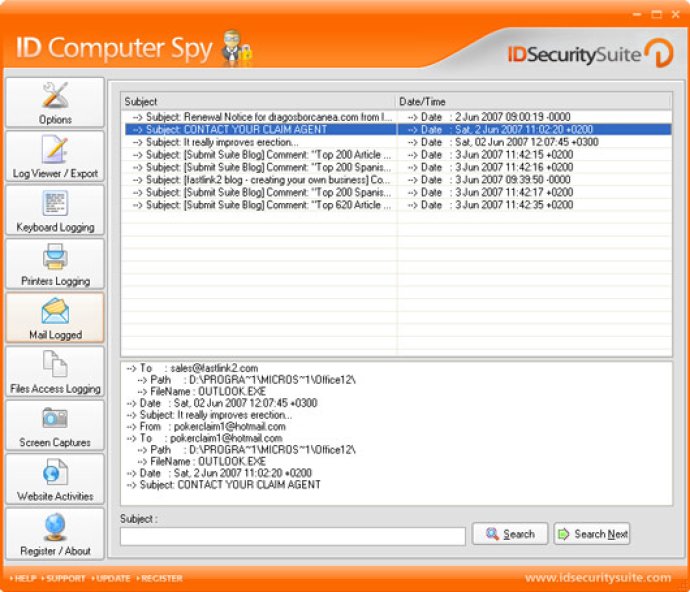 ID Computer Spy is an impressive utility that provides automatic surveillance of both the internet and PC usage. It is designed to monitor a variety of actions, including email records, instant message chats, website visits and program activity. This powerful software comes with a range of features that make it an indispensable tool for anyone needing to monitor internet and PC usage.

The main features of ID Computer Spy include monitoring internet activities and website views, registering PC actions and launching applications, making keystroke recordings and offering password protection for log files. Additionally, it provides a warning monitoring screen that alerts users regarding the monitoring activity.

Moving into detail, ID Computer Spy monitors all internet activity on your PC, including tracking each website visited and provides a log of web-surfing activity. It also registers PC activities by monitoring all actions and programs used. It stores all information regarding launched applications and running programs, enabling users to remain in control at all times. Moreover, ID Computer Spy records all keystrokes, including those used in application programs and chat messengers.

ID Computer Spy also offers a logging activity information feature, providing users with access to printer, clipboard, file access and delivered email logs. Log files can be packed or protected using passwords, and can be deleted at any time. The software also provides an automatic delete feature.

Users will also appreciate the alert monitoring screen provided by ID Computer Spy, which warns them of all monitoring actions taking place, allowing them to remain in control. Additionally, the software captures screen shots in PING format, which can be compressed and exported via email.

ID Computer Spy's easy-to-use graphic interface takes up minimal disk space while producing excellent results. This software is ideal for anyone needing to monitor internet and PC activity.
What's New
Version 1.2: N/A