This software enables unlimited occasion insertion and notifies users with sound alerts via a dialog box. It operates from the system tray and offers multiple features.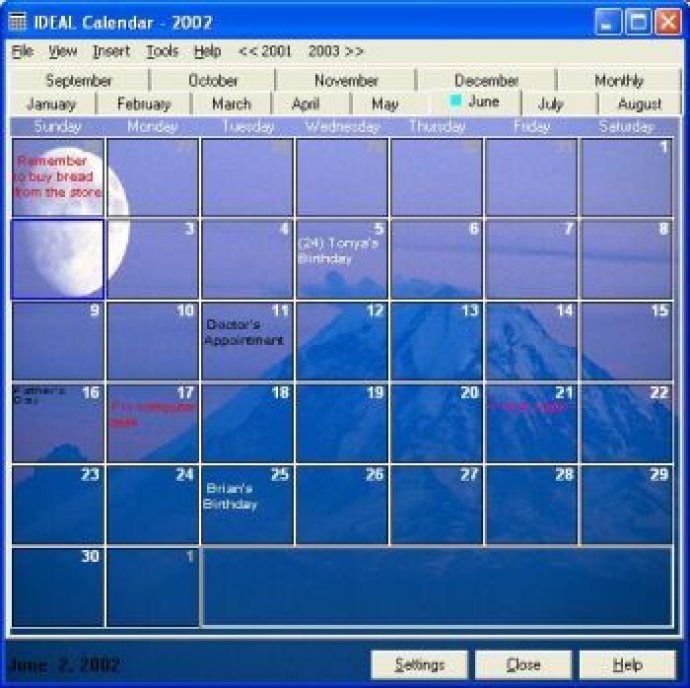 Looking for a versatile calendar program that can be used by both individuals and teams? Look no further than IDEAL Calendar. This intuitive software makes it simple to add important dates like birthdays and anniversaries, schedule meetings, and more. Whether you're managing your own schedule or collaborating with others, IDEAL Calendar has you covered.

One of the standout features of this calendar program is its level of customization. Users can personalize the calendar with custom occasions, fonts, backgrounds, and even wallpaper. You can print out the calendar in both month and day views, so you always have a physical copy on hand if you need it.

But that's not all - IDEAL Calendar also allows you to generate HTML pages from the entries in your calendar. This makes it easy to share important dates with others online or via email. Plus, the software's flexible import and export options make it easy to transfer calendar entries between IDEAL Calendar and other programs or PDAs.

And if you're looking for even more functionality, you can create your own plug-in or download existing ones from the software's library. These plugins let you customize and extend the program's features to fit your needs. Whether you're a solo user or a member of a team, IDEAL Calendar is the comprehensive calendar solution you've been searching for.
What's New
Version 4.7: new release with many new features