iGrid.NET is a highly adaptable, high-speed grid for the .NET Framework. It can function as a substitute for both a ListView and a .NET DataGrid, or as a comprehensive unbound grid control.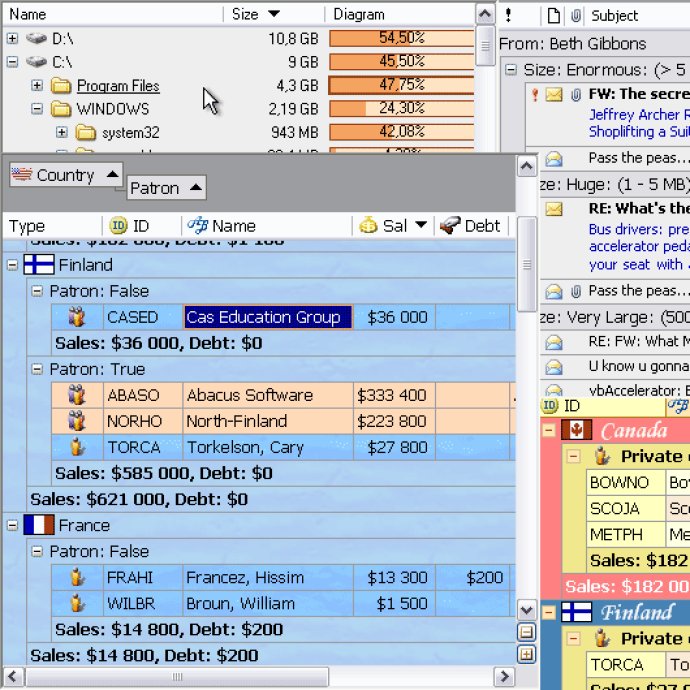 If you're looking for a grid control for the .NET Framework, iGrid.NET should be on your list. It's not only fast and flexible, but also very easy to use. You can use iGrid.NET either as a ListView and .NET DataGrid substitution, or as a full-featured unbound grid control.

One of the best things about iGrid.NET is the range of properties and events it provides. This makes it easy to customize the grid for your particular task. You can format each cell independently as well as a whole column at once, create a message preview like in MS Outlook, build tree-like interfaces, freeze rows and columns, design multi-row headers with merged header cells, make scroll bars semi-transparent, add custom buttons to scroll bars, display custom drop-down controls, edit multi-row text, dynamically adjust contents of group rows, and more.

Another advantage of iGrid.NET is that it fully supports right-to-left mode for languages such as Hebrew or Arabic. To enable right-to-left mode, just set the RightToLeft property to True.

At design-time, the majority of iGrid.NET's settings can be performed. You can populate and format the entire grid before you compile and launch your project. Simple access to the cells, columns, rows, and header cells make iGrid.NET a pleasure to work with. You can use for-each statement to enumerate all the cells, rows, columns, and even enumerate the cells of a row or column. The string keys make it easier to quickly access any required row, column, or cell.

Overall, iGrid.NET is a fantastic grid control that provides plenty of customization options while remaining easy to use.
What's New
Version 5.0.15: Minor bug fixes
Version 2.50.0021: A new build of iGrid.NET with important improvements and bug fixes was published. All the recent revealed bugs which may prevent the users from the normal usage of the control were fixed, and we highly recommend that all real-world apps use this updated build of iGrid.NET.
Version 1.70: N/A