Image Crop software facilitates batch mode cropping, converting and renaming of a large number of image files. This tool helps in removing unwanted areas from images or giving them a specific aspect ratio.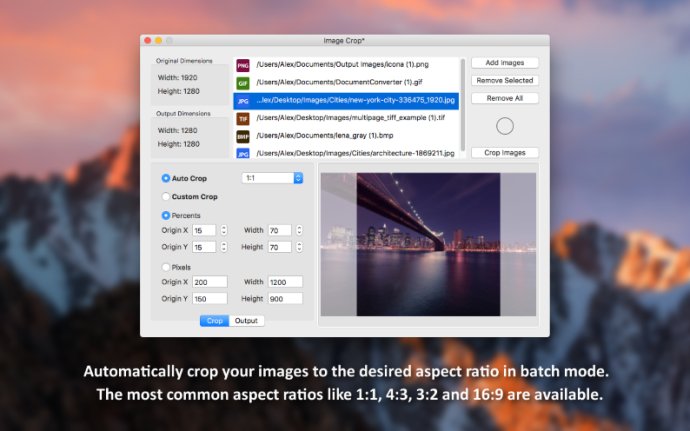 If you're looking for a software to help you crop, convert, and rename thousands of image files all at once, then Image Crop is what you need. It does all of this in batch mode, making it perfect for users who need to process a large number of images quickly and efficiently.

The main feature of Image Crop is its ability to crop images - you can remove unwanted areas or adjust the aspect ratio to make it perfect for your needs. You can also use the software to rename your files, giving them meaningful names that will make it easier to find and identify them later.

Some of the other features offered by Image Crop include the ability to crop images in batch mode, the ability to automatically crop images to one of four aspect ratios, and the option to select the corner where the crop area starts. You can also choose to define the crop area using either pixels or percents, and preview the crop area for each image to make sure it's exactly what you want.

In addition to cropping images, Image Crop can also convert and rename your files. You can keep the EXIF info and creation date of your original images, and the software supports a wide range of input and output formats including JPG, JPEG, JPE, JP2, JPX, PNG, TIFF, TIF, GIF, and BMP.

Finally, Image Crop allows you to save your cropped images in a folder of your choosing. It's easy to use and offers a comprehensive range of features that make it a must-have for anyone who needs to crop, convert, and rename images regularly.

So why wait? Purchase Image Crop today and you'll never need another app for cropping images.
What's New
Version 1.2: - Select the corner where the crop area starts
- Minor user interface improvements
Version 1.1: - Drag and drop images directly into the application
- Keep the EXIF info and creation date of the original images
- Support for the JP2, JPX and JPE image file extensions
- Bugfix: The app doesn't crash anymore when cropping a very large number of images