The IMAP Attachment Extractor software allows users to easily and securely extract attachments from emails in their IMAP account. With a user-friendly interface, this utility streamlines the process of extracting attachments from selected mail folders, requiring minimal effort from the user.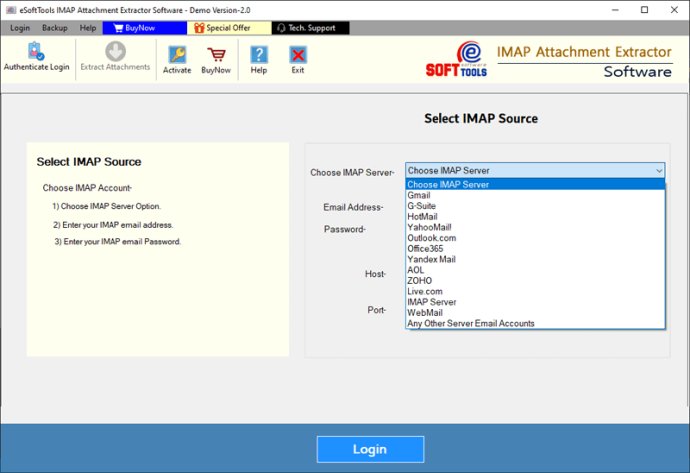 Review: eSoftTools IMAP Attachment Extractor Software

If you are in need of a reliable solution to extract email attachments from any IMAP-based cloud or webmail app, look no further than eSoftTools IMAP Attachment Extractor software. This efficient tool allows users to easily extract attachments from multiple emails across different mail folders of IMAP accounts simultaneously.

One of the standout features of eSoftTools IMAP Attachment Extractor is its intelligent functionality, which simplifies the entire process of extracting IMAP email attachments while delivering the best results to users.

Here are some of the smart features offered by eSoftTools IMAP Attachment Extractor:

1. Download and extract attachments from IMAP account emails on a Windows-based computer.
2. Extract attachments from emails of all IMAP-based mail apps, including Gmail, Yahoo Mail, Office365, and others.
3. Preview all mail folders of an IMAP mail account and easily extract attachments from designated mail folders.
4. Apply filters to extract attachments of a specific type or extension.
5. Choose the attachment extension from a predefined list or input it manually for extraction.
6. Filter IMAP account emails by date and extract attachments from emails of chosen dates only.
7. Extract all attachments from IMAP account emails without facing any size restrictions.
8. Only requires an internet connection and IMAP account login details for extraction.
9. Allows users to manually designate a location on their computer to save the extracted attachments.
10. User-friendly interface that is accessible to both technical and novice users for performing IMAP email attachment extraction tasks.
11. Compatible with various Windows operating systems, including Win 11, 10, 7, 8.1, 8, 7, Vista, XP, and others.

To test out the software's capabilities, users can take advantage of the free demo edition. With this trial version, users can access all of the software's features and extract up to 15 attachment emails from each selected IMAP account mail folder, completely free of charge.

In conclusion, eSoftTools IMAP Attachment Extractor software is a highly efficient and reliable solution for extracting email attachments from IMAP-based cloud or webmail apps. Its smart features, user-friendly interface, and compatibility with various Windows operating systems make it a top choice for users of all expertise levels.
What's New
Version 3.0: New Releases for Extracting Attachments from IMAP Server Accounts