Automatically import files from disk or network share to Outlook with this free utility that preserves original folder layout and adds extra functionality.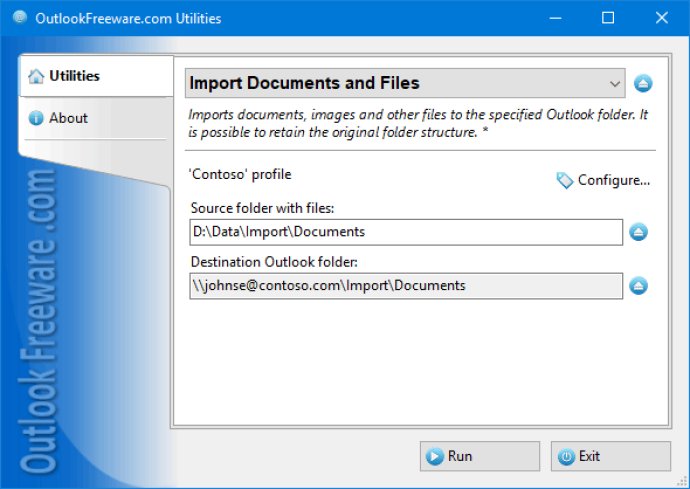 If you're looking for an easy way to import folders with files into Outlook, look no further than this free utility. Not only does it keep the original folder structure intact, but it also comes with additional features that set it apart from other import tools.

To get started, simply specify the source and destination folders, and then run the utility. You can even specify filters by file name, allowing you to be selective about which files get imported. Plus, the utility automatically loads subfolders and creates the original folder structure in Outlook if necessary.

There are a number of key benefits to using this utility. For one, it supports filtering by different file types, so you can easily include or exclude the file extensions you need. It also sets the dates of uploaded documents correctly and allows you to sort and select them by date once they're in Outlook.

One particularly useful feature is the ability to automatically move imported files to another folder on the disk, which eliminates the risk of duplicates when performing periodic imports.

The utility comes with a standalone launcher application, an Outlook add-in, and a command line, giving you flexibility in how you use it. And for those looking to automate the process, a command-line application is provided for batch files and scripts.

Overall, this is a powerful and user-friendly utility that streamlines the process of importing files into Outlook. If you're regularly transferring files from your disk or network share to Outlook or Exchange Server Public Folders, this tool is definitely worth checking out.
What's New
Version 4.20: New features and enhancements.