InkSaver 2.0 software for Windows XP and Windows 2000 reduces ink consumption from printers, increasing the lifespan of inkjet cartridges by up to 400%, and saving users money in the long run. The software has won multiple awards.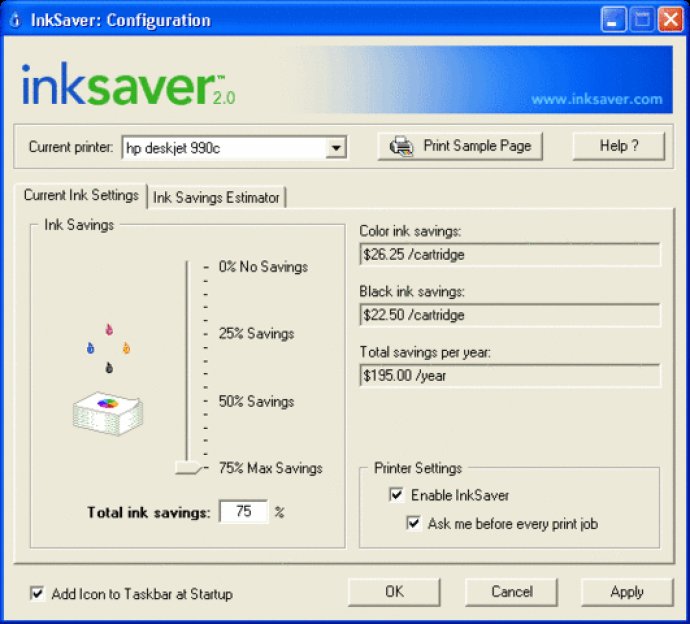 InkSaver 2.0, an award-winning software available for Windows XP and Windows 2000, has become a popular tool for saving money by helping to maintain inkjet cartridges for an extended period of time. By using InkSaver 2.0, users have the ability to control the amount of ink used by their printer, which can result in an increased life span of ink cartridges up to 400%. The technology behind InkSaver is groundbreaking, thanks to their patent pending algorithms that optimize printer data and help users save ink without quality loss.

The software is easy to use, as users can quickly adjust the ink savings slider and print with no lag time. The InkSaver savings estimator provides users with insight into potential cost savings, making it a worthwhile investment for users with any printer brand, including HP, EPSON, Canon, Lexmark and more.

Notably, InkSaver 2.0 is more effective than the typical draft mode found in many printers. InkSaver provides even greater savings while maintaining high-quality printing to meet user needs. Users can customize InkSaver for their specific needs, including those who use any type of ink or refill kit.

Given the latest trends in ink cartridge replacements, which now contain half the ink that they once did, InkSaver is becoming an essential tool for users looking to save ink and money. Over a printer's lifetime, InkSaver can potentially save hundreds of dollars in ink costs, making it an investment well worth it for any home or office user.
What's New
Version 2.0: N/A